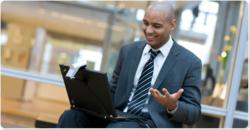 ...students have indicated that they hold CTS certifications, and that this certification is important for their careers...
Henderson, NV (PRWEB) April 24, 2013
Compass Business Solutions, a company who offers more training options for Cisco's TelePresence product line than any other learning company, makes Cisco Certification Training available to Infocomm attendees for the seventh year in a row. The courses provided by Compass contribute to Infocomm CTS certification renewal requirements. Infocomm has offered audio/visual certifications that are recognized for credibility and integrity for more than 30 years. Compass has also made these training courses available to Cisco Live attendees for the past three years, following Cisco's acquisition of Tandberg.
"With both Infocomm (June 8-14) and Cisco Live (June 23-27) in Orlando, it is the perfect opportunity for conference attendees to earn certifications and for Cisco partners to complete their partner requirements," stated Jules Trono, President of Compass. "Compass-provided courses have been contributing to Infocomm Renewal Units since 2008. Completing both weeks of training achieves the 30 RU's needed to maintain the CTS certification." Compass is the largest provider of telepresence and videoconferencing training in the US and also offers private training sessions globally.
"Many of our students have indicated that they hold CTS certifications, and that this certification is important for their careers," stated Jason Ball, Sr. Instructor with Compass. "We receive a lot of feedback requesting access to our courses in conjunction with attending Infocomm so our students can save on travel costs. Making the courses available so students can attend the show and then training just makes sense."
Students or companies interested in learning more about Compass' training programs in the US and globally can visit http://www.compassprogram.com, and can contact Lisa Santiago at +1 (760) 688-4045, +1 (877) 234-0635 or info(at)compassprogram(dot)com. Students or companies interested in learning more about Infocomm and CTS certifications can contact Infocomm at +1 (703) 273-7200, +1 (800) 659-7469 or certification(at)infocomm(dot)org.
About Compass Business Solutions
Compass, the nation's largest provider of telepresence and videoconferencing product line training, provides a one-stop resource for technical certification, end-user and sales training for visual communication products.
Compass Business Solutions is a learning company focused on helping people use and support video communication and telepresence technologies to improve their business. Training sessions follow a best practices approach to optimize all aspects of video usage and support. Compass was founded in 2008 by industry professionals who have been working with telecommunication and video technologies since 1989 and who helped launch Tandberg University in the USA in 2006, then becoming Cisco's first authorized TelePresence Specialist Learning Partner in the US.
About InfoComm International
InfoComm International® is the international trade association of the professional audiovisual and information communications industries. Established in 1939, InfoComm has 5,000 members, including manufacturers, systems integrators, dealers and distributors, independent consultants, programmers, rental and staging companies, end users and multimedia professionals from more than 80 countries. InfoComm International is the leading resource for AV market research and news. Its training and education programs, along with its separately administered Certified Technology Specialist (CTS®) credential, set a standard of excellence for AV professionals. InfoComm International is the founder of InfoComm, the largest annual conference and exhibition for AV buyers and sellers worldwide. InfoComm also produces trade shows in China, Europe, Latin America and the Middle East. Additional information is available at http://www.infocomm.org/.