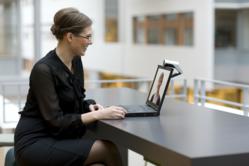 The often forgotten step is rolling out the technology to users in a way that helps them understand how the technology will make their life better
Henderson, NV (PRWEB) October 23, 2012
Jules Trono, President & CEO of Compass Business Solutions, today led an opening session at VCI Group's Annual Conference in Monterey. The session provided conference attendees with the information needed to successfully drive adoption of visual technologies within their organization.
"Managing the deployment of technology within an organization is challenging," stated Jules Trono, President of Compass. "The often forgotten step is rolling out the technology to users in a way that helps them understand how the technology will make their life better. It's all about communicating the user applications and providing training in a best practices approach that incorporates the organization's business processes." Compass is the largest provider of telepresence and videoconferencing training in the US and also offers private training sessions globally.
After the session Tamela Smith stated, "I left the session excited to go back to work and implement the ideas and innovative techniques to increase usage & adoption of visual technologies at the University." Tamela is the Manager of Communication Technologies - Interactive Video Services at Western Kentucky University.
Students or companies interested in learning more about Compass' training programs in the US and globally can visit http://www.compassprogram.com, and can contact Lisa Santiago at +1 (760) 688-4045 or +1 (877) 234-0635 for more information.
About Compass Business Solutions
Compass, the nation's largest provider of telepresence and videoconferencing product line training, provides a one-stop resource for sales, technical and end-user training for visual communication products
Compass Business Solutions is a learning company focused on helping people use and support video communication and telepresence technologies to improve their business. Training sessions follow a best practices approach to optimize all aspects of video usage and support. Compass was founded in 2008 by industry professionals who have been working with telecommunication and video technologies since 1989 and who helped launch Tandberg University in the USA in 2006, then becoming Cisco's first authorized TelePresence Specialist Learning Partner in the US.