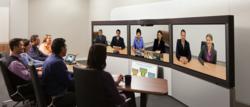 We worked hand-in-hand with Cisco to insure that the new VIVND courses were available at the time Cisco announced the new CCNA Video Certification
Henderson, NV (PRWEB) February 26, 2013
Compass Business Solutions has always offered advanced level telepresence and videoconferencing technical training. As Cisco aligns its partner requirements with its full product lines for Unified Communications, Compass continues to support Cisco reseller partners by making TelePresence training available regionally.
"We worked hand-in-hand with Cisco to insure that the new VIVND courses were available at the time Cisco announced the new CCNA Video Certification," stated Jules Trono, President of Compass. "We will make sure that seats are available to Cisco's Collaboration Architecture Specialization Partners so that they can meet their partner requirements before their due dates." Compass is the largest provider of telepresence and videoconferencing training in the US and also offers private training sessions globally.
"Many of the partners need to pass the VIVND test by May 13 this year," stated Donna Wyvill, Content Development Manager with Compass. "We are the only company that made the investment to insure the class would be available, and we are committed to helping these partners meet their requirements."
Students or companies interested in learning more about Compass' training programs in the US and globally can visit http://www.compassprogram.com, and can contact Lisa Santiago at +1 (760) 688-4045 or +1 (877) 234-0635 for more information.
About Compass Business Solutions
Compass, the largest provider of telepresence and videoconferencing product line training, provides a one-stop resource for sales, technical and end-user training for visual communication products (compassprogram.com).
Compass Business Solutions is a learning company focused on helping people use and support video communication and telepresence technologies to improve their business. Training sessions follow a best practices approach to optimize all aspects of video usage and support. Compass was founded in 2008 by industry professionals who have been working with telecommunication and video technologies since 1989 and who helped launch Tandberg University in the USA in 2006, then becoming Cisco's first authorized TelePresence Specialist Learning Partner in the US.