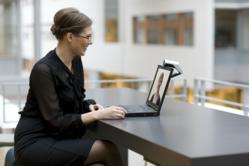 The importance of making information easy to access cannot be overstated
Henderson, NV (PRWEB) July 30, 2012
Compass Business Solutions makes learning how to use Cisco's TelePresence products easier by launching a new learning management system (LMS).
Online training provides how-to assistance designed to be available anytime, anywhere and on-demand. "The importance of making information easy to access cannot be overstated," said Jules Trono, President of Compass. "It is not enough to make training available. Anyone using a technology product must be able to find answers quickly, and when finding them on a website must be able to easily navigate back and forth. This applies to the people sitting in the conference room as well as the people sitting on the I.T. help desk."
"With each step forward in making training available," stated Donna Wyvill, Content Development Manager with Compass, "we listen to our customers and how they need to receive the information. Non-technical professionals want their learning provider to make training easier."
Compass will be releasing several new courses throughout the summer on user interaction with Cisco TelePresence products as well as operator responsibilities for launching calls and managing phone books. All courses will have easy navigation within the Compass LMS site.
Students or companies interested in learning more about Compass' training programs in the US and globally can visit http://www.compassprogram.com, and can contact Lisa Santiago at +1 (760) 688-4045 or +1 (877) 234-0635 for more information.
About Compass Business Solutions
Compass, the nation's largest provider of telepresence and videoconferencing product line training, provides a one-stop resource for sales, technical and end-user training for visual communication products.
Compass Business Solutions is a learning company focused on helping people use and support video communication and telepresence technologies to improve their business. Training sessions follow a best practices approach to optimize all aspects of video usage and support. Compass was founded in 2008 by industry professionals who have been working with telecommunication and video technologies since 1989 and who helped launch Tandberg University in the USA in 2006, then becoming Cisco's first authorized TelePresence Specialist Learning Partner in the US.