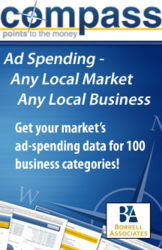 the Compass service is showing an upward spiral continuing for local online advertising expenditures in every single market
(PRWEB) June 09, 2011
Borrell Associates has unveiled a new service examining ad-spending trends in thousands of U.S. markets, and it's forecasting steep declines in yellow pages and direct mail advertising in virtually all localities.
The new service, called "Compass," is part of Borrell's Local Ad Spending Report (LA$R™) set. It shows annual declines over the next five years averaging 14 percent for local yellow pages advertising and 11 percent for local direct mail advertising. Restaurants, auto dealers and hospitals are among the advertisers forecast to retreat the most from direct mail, while categories such as automotive, HVAC repair and retail home improvement are showing the biggest dollar-volume declines in yellow pages spending in many of the markets.
On the positive side, the Compass service is showing an upward spiral continuing for local online advertising expenditures in every single market – nearly doubling in many of the smaller markets by 2016. The average annual increase for local online advertising across all markets is 17 percent, according to Borrell Associates. Local cinema advertising is also showing very large increases. Detail is available at http://www.borrellassociates.com.
Borrell Associates' Compass Ad Spending Report, now available online, gives clients access to what's happening with ad spending – and what's expected to happen – in thousands of U.S. markets. It is part of a widely used Local Ad Spending Report (LA$R™) series on marketing expenditures. The Compass provides media planners, ad buyers and ad sellers a rich level of detail on current marketing expenditures for 100 business categories across 54 marketing channels and sub-channels – including radio, online, TV, newspapers, promotions, public relations and others. It also offers current-year and five-year forecasts showing how those businesses are expected to shift their marketing spending patterns. To test drive the online Compass, visit http://www.adspending.com.
"As the media landscape becomes more complex, we are seeing strong demand from advertiser s and media companies wanting to understand advertising trends in their local markets," said Colby Atwood, president of Borrell Associates. "How are auto dealers spending their ad budgets in my market? What's my share of online advertising in my market? Which business categories spend the most for cinema and radio in my market? The online Compass gives our clients instant answers to questions like these."
Atwood said that more than 1,000 local companies already use Compass data. The newly launched online version of Compass, he said, "provides a lot more flexibility for researchers to size their markets and for salespeople to provide better advice to their clients."
Borrell is the premier provider of data on local marketing expenditures for more than 15 million businesses across any U.S. market down to the county level. It has been providing insights into local marketing trends for more than a decade.
Borrell senior analysts are scheduling free Webinars with companies that want to see the data for their specific markets or market verticals (automotive, real estate, health care, etc.). To schedule an appointment, go to http://www.adspending.com and click on the "test drive" button. Send email to info@borrellassociates.com or call 757-221-6641.
###