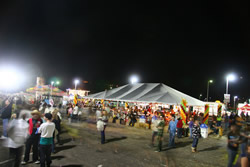 We love providing a safe, free event each year that families can enjoy on Halloween night.
Aliso Viejo, CA (PRWEB) October 17, 2011
Returning for its sixth year, Compass Bible Church's annual Halloween-alternative event, "Fall Fest" is back and moving to its biggest location to date at the Verizon Amphitheater in Irvine. Last year, more than 10,000 local residents and families took part in this free community event sponsored by the Aliso Viejo-based church.
Thousands of free In-n-Out Burger meals will be served from three In-n-Out food trucks along with Kettle corn, cotton candy, hot dogs and other snacks all completely free, while supplies last. More than 70 rides and attractions will be set up with age-appropriate games and rides for children in two separate areas; one for younger children and the other for elementary-age students. The area for young children will feature pony rides, bounce houses and game booths while the older game section will feature a giant slide, rock climbing wall, laser tag, ferris wheel, music with nationally known artist, Rob Biagi and more.
"Last year we were at capacity at the Ziggurat building in Laguna Niguel with about 10,000 people in attendance," said Dr. Mike Fabarez, senior pastor of Compass Bible Church. "This year we were able to secure the parking lot at the Verizon Amphitheater giving us more than ten acres to entertain families from the community. It's exciting for us each year to gather 700 volunteers from our church to provide a safe, fun alternative to Halloween. Best of all, being able to provide this for free to the community gives parents a chance to come and not worry about the cost."
Fall Fest will take place on Monday, October 31, 2011 from 5:00pm – 9:00pm at the Verizon Amphitheater parking lot located at 8808 Irvine Center Drive, Irvine. Costumes are welcome, but given the family theme, no scary costumes please.
For more information visit http://www.ocfallfest.com or call Compass Bible Church at 949.540.0699.
About Compass Bible Church
Compass Bible Church, founded in 2005, is located in Aliso Viejo, California. The mission of Compass Bible Church is based on the "Great Commission" of Christ recorded in Matthew 28 where Jesus calls every church, including CBC, to "make disciples." It has greatly impacted the local community with annual outreach events such as Fall Fest and Eggstravaganza, and provides weekly ministry opportunities for people to get deeply involved in knowing, loving, serving Jesus Christ.
###