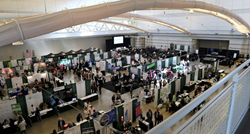 PITTSBURGH (PRWEB) November 19, 2018
Compassionate Certification Centers™ recently announced it will sponsor the third annual World Medical Cannabis Conference & Expo (WMCC Expo), March 30-31, 2019, at the Monroeville Convention Center, 209 Mall Boulevard, Monroeville, Pennsylvania.
Hosted by Kelly Simon Event Management, the event will feature over 100 cannabis exhibitors, testimonials from patients and physicians, as well as research presentations on medical cannabis for PTSD and opioid addiction. For sponsorships, exhibit space, or tickets, visit cccregister.com.
Compassionate Certification Centers is renowned for establishing and hosting the 2017 and 2018 WMCC Expos. The inaugural event was the first large-scale, physician-led cannabis business conference and was headlined by Heisman Trophy winner Ricky Williams. Other high-profile industry experts included: PTSD researcher Dr. Sue Sisley; Forensic Science Consultant Dr. Cyril Wecht; former National Hockey League stars Darren McCarty and Riley Cote; and Super Bowl Winner Marvin Washington.
This year, Kelly Simon Event Management aims to build upon previous conference success. The management company has over three decades of experience in trade show production and has hosted over 700 events.
The 2019 WMCC Expo will provide a platform for education, medical research, and advocacy for the growing cannabis market. The community is invited to participate, learn, and network with some of the greatest minds and organizations in medical cannabis.
Pennsylvania currently has 35 medical marijuana dispensaries and more than 80,000 registered medical cannabis patients. In July of 2018, the state updated its program to include the sale of marijuana in flower or leaf form, as well as expanded the list of qualifying conditions from 17 to 21.
Compassionate Certification Centers provides CBD and medical cannabis evaluations and certifications. The company has eight offices throughout western Pennsylvania and plans to open more locations in 2019. The progressive healthcare network recently launched its own line of THC-free CBD products, available to patients and non-cardholders.
For more information on Compassionate Certification Centers visit cccregister.com.
About Compassionate Certification Centers™:
Compassionate Certification Centers provides professional, compassionate, and private evaluations for patients seeking to legally obtain a Pennsylvania medical marijuana card, as well as the retail of compliant CBD products made in the United States. The company's medical marijuana certification centers are located in the following counties: Allegheny, Armstrong, Butler, Cumberland County, Clarion, Dauphin, Erie, Westmoreland, Washington, Greene, Philadelphia, Lackawanna, West Chester.
Compassionate Certification Centers' mission is to raise the level of treatment that patients receive while seeking their medical marijuana cards by providing trust, clarity, and the diagnostic help from certified doctors. Compassionate Certification Centers is here to improve the lives of people suffering from chronic health conditions by helping them to find the right medicine. For information, visit compassionatecertificationcenters.com or join the discussion at Facebook, Twitter, LinkedIn, Instagram and Google+.
Press Contacts:
Compassionate Certification Centers
Melonie Kotchey, info@compassionatecertificationcenters.com, 888-316-9085 ext.101
Proven Media
Neko Catanzaro, 401-484-4980, neko@provenmediaservices.com or Kim Prince, 480-221-7995, kim@provenmediaservices.com.
Exhibit Space, Sponsorship and Ticket Inquiries:
Kelly Simon Event Management
Kelly Simon, kelly@simoneventmanagement.com, 724-837-4223 or 800-747-5599.
LEGAL DISCLOSURE
Compassionate Certification Centers™ does not sell or distribute any products that are in violation of the United States Controlled Substances Act (US.CSA).