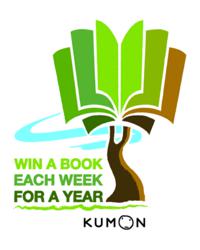 (PRWEB) August 05, 2012
This year marks 15 years of the Kumon English Programme in the UK. In this time, more than 148,000 students have benefitted from the individualised Kumon English programme, which aims to develop a passion for reading in every child.
It is often considered that reading is the single most important activity that a child can undergo to ensure academic achievement and lifelong success. So to celebrate this milestone, Kumon is giving all UK parents and guardians a chance to win a children's book each week for a year.
To enter, they simply need to visit the competition area of the Kumon UK Facebook page and submit a 100 word entry starting with "I encourage my child to read because…". The competition will run from 1 to 31 August and the winner will be announced on the Facebook page (http://www.facebook.com/Kumon.UK) on 7 September 2012.
The winning parent and their child will be able to select four to five free children's books every month for the following year, providing a new book to read each week. This monthly selection will enable the child to choose new books as their skills and appetite for reading develop. The Kumon Recommended Reading List will be on hand to support them in selecting books which are both exciting and stimulating for the child to read.
Nick Gibb, Minister of State for Schools, states:
"Children should always have a book on the go. The difference in achievement between children who read for half an hour a day in their spare time and those who do not is huge."
During his speech at Stockwell Park High School, he furthered this notion, stating:
"The National Literacy Trust released research recently that suggests only one in three children owns a book. Yet we know that the difference in reading ability between pupils who never read for enjoyment, and those who read for just half an hour a day, is equivalent to a year's schooling by the age of 15."
This exclusive competition gives parents a chance to win a library of 52 brand new children's books of their choice. Kumon is passionate about giving children the chance to experience the joys of getting lost in a book and look forward to helping the winning child develop through the power of literacy.
The Kumon English Programme takes children on a journey from basic word and sentence building to reading and understanding advanced texts, whilst developing life skills such as confidence and independence. Students work independently on their Kumon worksheets every day, developing a wide range of reading comprehension skills and eventually interpreting information in high level texts such as Shakespeare plays, Coleridge poetry and Austen novels.
For more information on the Kumon English Programme, visit http://www.kumon.co.uk/english.