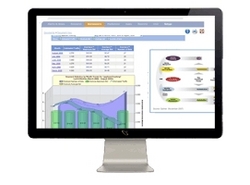 "Clients have been asking for deeper coverage and daily monitoring of competitors in Gartner Magic Quadrants, so we are happy to deliver exactly that."
Norcross, GA (PRWEB) May 26, 2010
Competitive Intelligence Radar, known as "CI Radar", has just released new competitive intelligence software which covers the key vendors mentioned in the Gartner Research report, "Magic Quadrant for Secure Web Gateway, 2010" authored by Peter Firstbrook and Lawrence Orans. Coverage is provided for clients through an award-winning 24x7 competitive dashboard and daily email alerts.
The CI Radar dashboard includes competitive intelligence tools to analyze the movements and strategies of Cisco, McAfee, Websense, and Blue Coat Systems found within the Leaders quadrant of the Gartner report. Dashboard users typically include Marketing Communications, Executives, Product Management, Market Research, Competitive Intelligence, Sales, Analyst Relations, Marketing Management and Social Media Marketing.
Sample reports and analysis available within the competitive dashboard include:

Potential competitive threats
Head-to-head market exposure
Competitive sales team metrics
Social media intelligence
Partner and reseller analysis
Sales presentations
Pricing changes
Internal vulnerabilities
Industry sales leads
Conference and event monitoring
Competitor customer identification
Digital campaign budget views
RFP responses
Product release tracking
R&D plans and roadmaps
Patent tracking
Lawsuit tracking
Financial Snapshots
Key employee recruitment
Marketing collateral analysis
Trademark misuse reports
Other companies appearing in the Gartner report within the Challenger section include Symantec, Trend Micro and Barracuda Networks. Within the Visionaries segment you'll find M86 Security, Zscaler, FaceTime Communications and SafeNet. Companies placed within the Niche Players area include ContentKeeper Technologies, Computer Associates, Webroot Software, Cymphonix, Optenet and Clearswift.
The Secure Web Gateway market as defined by Gartner Research includes multiple security markets. These markets include URL filtering, antivirus filtering, proxy caches and dedicated multifunctional SWG devices. Gartner estimates a total market growth rate of 15% in 2010.
Clients subscribing to a CI Radar Dashboard may also add additional competitors and market segments important to them. This allows for precise filtering and analysis on specific business requirements and provides for ever-changing competitive landscapes.
CI Radar's competitive intelligence software may also be configured and tuned for industry relevancy terms, alert types, key intelligence topics and market keywords. This separates the CI Radar solution from generic services and accelerates the return-on-investment on subscription plans.
Reasons to Subscribe
Save hundreds of man-hours and frustration scouring the web for the information you need
Optimize your Sales and Marketing spend by understanding competitor tactics and what's working for them
Gain far deeper insights over using generic tools like Google News alerts, clipping services or other vendors
Make better decisions armed with the latest intelligence on your competitors and market
"Clients have been asking for deeper coverage and daily monitoring of competitors in Gartner Magic Quadrants, so we are happy to deliver exactly that." said Mark Van Laeke, President.
For more information on how CI Radar covers the Web Secure Gateway or your specific market segment, view a short Competitive Intelligence Software video. Intelligence dashboards are just one of CI Radar's competitive intelligence tools. Visit CI Radar's website to view our comprehensive suite of tools, including several free competitive analysis tools.
"Magic Quadrant for Secure Web Gateway, 2010" is copyrighted 2010 by Gartner, Inc.
About CI Radar
CI Radar, LLC provides award-winning competitive intelligence software that helps generate opportunities for our clients. Opportunities include identifying sales leads, uncovering competitor plans, discovering new markets, optimizing marketing campaigns, building better products and gaining insights to make critical strategic decisions.
CI Radar's competitive intelligence service includes custom client dashboards, daily intelligence alerts, outsourced virtual analyst team, and a host of market research project capabilities.
Based in Atlanta, Georgia, CI Radar can be found at http://www.ciradar.com.
All trademarks are the property of their respective owners.
Contact info:
Mark Van Laeke
678-680-2103
# # #