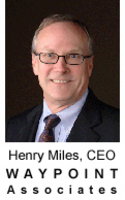 How can we be better than our competition?
Excelsior, MN (Vocus) August 22, 2009
Strategic assessment answers the question, "How can we be better than our competition?" The answer isn't always obvious nor need it be. Indeed, according to Henry Miles, CEO of Waypoint Associates, "Firms often find competitive advantage in areas that have little to do with their primary business."
Take Dain Rauscher, for example. Twelve years ago, the firm had survived a series of setbacks to become an average holding company of independent broker-dealers each having their own organization structure and operations. Then, in 1997, Dain Rauscher embarked on a 'shared services' initiative in which they merged together management, staff, and back-off functions. The integration of Dain and Rauscher was achieved within a few months. Then, realizing that they could expand geographically while simultaneously capturing economies of scale through fast and seamless integrations, Dain Rauscher set about to acquire and merge other firms. A year into the strategy, Dain Rauscher's stock price had doubled.
In the ensuing 4 years, the firm bought and integrated another firm every year moving Dain Rauscher up 2 places in its ranking among the top full-service broker-dealers in the United States. Midway through the process, Dain Rauscher itself was acquired by the Royal Bank of Canada for nearly 4 times the price that the stock had traded before 'shared services'. Executives commented that Dain Rauscher's source of competitive advantage had less to do with brokerage than it did the firm's ability to drive operating leverage through acquisitions and integrations.
All sorts of firms are able to achieve competitive advantage in ways that are offshoots from their core business. Marshall & Ilsley bank developed and licensed some fine technologies that it eventually spun-off into a successful firm, Metavante. General Electric leveraged its formidable product / sales capabilities to become a dominant player in equipment finance. Cordes & Company, a Denver-headquartered receivership boutique, branched out with services to help going-concerns dissolve and sell non-priority business units.
Henry Miles points out, "Firms are often better off avoiding head-to-head competition and looking in other places for advantage." Miles adds, "A good strategic assessment process can reveal unexploited areas of internal strength in addition, of course, to identifying weaknesses that must be addressed."
Waypoint Associates – the strategic assessment firm – was founded in 1990. Henry Miles is a 35-year veteran of business having held line, staff and consulting positions with some of the most successful companies in North America.
# # #