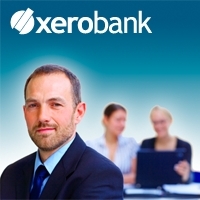 because we believe privacy and security shouldn't have to be complicated or inconvenient.
New York, NY (PRWEB) October 13, 2008
XeroBank announces the release of Onyx, a unique and highly secure network designed for business and government communication. Onyx effectively addresses threats of breach against client internet communications. The Onyx network is accessed via the XeroBank CryptoRouter, which protects all computers connected to it.
Using multi-jurisdictional routing of communications, Onyx ensures that no third party -- including XeroBank -- can gain access to client context. Each node of the Onyx network is isolated, and all nodes are operated by multiple private companies in different jurisdictions, creating a robust legal structure. None of the operators can collect the required data to decipher the content or context of client communications. Furthermore, traffic does not enter or exit the network through the same country. "This makes it exceedingly difficult for adversaries to trace client connections," says Steve Topletz, Operations Advisor at XeroBank.
"Onyx technology plugs the leaks of other privacy services," Topletz adds. "We have the tactical, technical, and legal expertise to ensure that client communications are protected against leakage, theft, misuse, or inadequate information storage."
The operational, corporate, and network structures of Onyx protect the privacy of both content and context, the two most critical aspects of internet communications. While content privacy is the primary concern, the context of communications also requires significant protection. Context can reveal the recipient, message size, frequency, and other pieces of information that together create a profile. Such a profile can suggest the content of the communications and enable unintended parties to anticipate future behavior.
Business & Government Applications
Onyx can be implemented in a variety of environments. It can perform IP hiding with thousands of anonymous IP addresses for Open Source Intelligence gathering, which is often performed by law enforcement and intelligence agencies. Onyx can also be used for Competitive Intelligence gathering, such as web harvesting, price scraping, and online research, by defeating IP blocking and web cloaking techniques.
Information assurance is essential in petroleum, aerospace, banking, and other Supervisory Control and Data Acquisition industries. Onyx strikes back against corporate espionage and surveillance societies by providing strong data integrity with its unique closed-group routing feature.
Closed-group routing allows clients to create encrypted Virtual Private Networks inside the Onyx anonymity network. This means that a firm in San Francisco can simultaneously communicate with its offices in London, Hong Kong, and Dubai, without fear of competitors, ISPs, or governments being able to eavesdrop on their communications.
Onyx Technology
XeroBank Onyx supports OpenVPN, MixPPP, and IPSec access, and its standards-based military cryptography protocols protect the content of client communications. In addition to multi-jurisdictional routing, a variety of techniques are employed to disguise communications context, including traffic padding; re-encryption of connections to protect against watermark attacks; random assignment of outgoing IP; encryption of traffic between entry termination and exit nodes; and automated selection of exit and termination nodes to optimize crowding, a basic principle of anonymity. Onyx technology also uses channel multiplexing, which divides user communication into multiple streams and recombines it with other users' streams. This practice increases anonymity and resists traffic analysis. For further information about technologies and practices employed in Onyx, a whitepaper is publicly available for download.
CryptoRouter
The XeroBank CryptoRouter, the primary access device to the Onyx network, effectively extends the closed network onto client premises. It can replace or stand alongside other routers. Several levels of available service, such as high-bandwidth and high-volume, all share essentially the same suite of protection technologies.
Comparing Networks
Competitive Intelligence firms used to endure a single US company for enterprise anonymity services because few viable alternatives existed. Onyx provides full VPN access for web and non-web traffic, free support, free CryptoRouters for easy installation, large active IP pools, and flat-fee pricing based on total throughput instead of web queries. Features like encryption and decentralized structure are not paid upgrade options; they are a standard part of the security and anonymity that XeroBank is known for. Onyx also provides flexible features, such as Geographic IP selection, personalized entry and exit nodes, and closed-group routing services, which are available upon request.
Unlike the existing Tor network, which is an open-proxy network based on user-donated resources, the Onyx network currently provides over 550 Mbps sustained speeds. It is also immune or resistant to a variety of attacks, including watermarking, man-in-the-middle, malicious code injection by exit nodes, fingerprinting, timing, and other privacy-compromising attacks.
About XeroBank
XeroBank specializes in turn-key solutions for internet privacy and produces the free xB Browser, the leading anonymous browser with over 8 million downloads. "All XeroBank software products are free, pre-configured, source viewable, and USB portable," says Topletz, "because we believe privacy and security shouldn't have to be complicated or inconvenient."
XeroBank™, XeroBank Onyx™, and CryptoRouter™ are trademarked names, owned and operated by Xero Networks AG. Their use is restricted, and all rights are retained by Xero Networks AG.
# # #