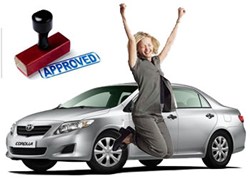 They explain that just finding good rates can be a hassle.
Seattle, Washington (PRWEB) June 18, 2013
According to CAL, many first time car buyers find trouble with typical loan application processes. They aim to alleviate this by providing a few tips in their latest article titled "Bad Credit Auto Loans Make First Time Buying Easy". Complete Auto Loans explains that there are several problems with applying for bad credit auto loans without a plan.
They explain that just finding good rates can be a hassle. They detail, "Finding rates without help can take several weeks of searching and many credit pulls. Having your credit report pulled because of a large number of applications can actually take down your credit score. Auto rates will largely depend on your credit history. If you have bad credit, you may have a harder time finding favorable lending terms."
They assert that the only way to secure the best loan is to shop around as much as possible in a way that will not pull credit reports left and right. The use of a third party, they suggest, is the best way to speed up the process and eliminate possible denial. According to CAL, their online application service is free, quick and effective, providing multiple potential lenders for each applicant.
About Complete Auto Loans:
CAL provides bad credit auto loans online. Their unique finance platform can accept 100% of applicants, regardless of poor credit or even bankruptcy. By visiting http://www.completeautoloans.com, consumers are able to find the ideal loan for their personal financial situation, all through a quick and easy online process.