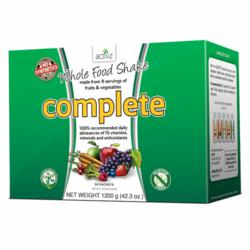 Complete whole food shake is an all natural whole food multivitamin complete nutritional shake, is now available from health and wellness company, True Healthy Products.
(PRWEB) April 25, 2012
Natural health and wellness products provider, True Healthy Products now has a new Complete whole food shake available. The new product contains the equivalent nutritional values of 9 servings of fruits and vegetables and 100%, whole food nutrition for 15 Vitamins, Minerals and Antioxidants.
To view the nutritional values, please see: http://www.truehealthyproducts.com/products/dietary/complete-whole-food-shake
The Complete Whole Food Shake was formulated as a meal replacement and as an alternative to taking pill after pill of vitamins to get the proper supplementation that many require. Because it is made with whole food ingredients instead of lab created chemicals, the body's ability to absorb and fully utilize the product is much higher than synthetic vitamins.
"I hate taking vitamin pills. Now that I'm older, nutrition and all natural supplementation has become very important to me, as I feel my youth and vitality slipping away. I came across the new "Complete" whole food, multivitamin shake from True Healthy Products and within 4 days of taking the shakes, I felt a definitive change in my body, a sort of well balanced feeling that positively changed my mood! I feel more vitality and less grumpiness. I will be a devoted consumer of the Complete shake for years to come," says May from Florida.
Complete Whole Food Shake from True Healthy Products can be used as a:
Meal replacement
Healthy snack
Energy snack
Recovery drink
Comprehensive multivitamin supplement
True Healthy Products recently added the Complete Whole Food Shake as an alternative to the already popular 9 A Day Plus, whole food vitamins. The vitamins and complete shake are manufactured by the same company, and are nutritionally comparable, but many people find the shake version of the vitamin to be more palatable and desirable, especially those that have a difficult time swallowing pills.
True Healthy Products is an all natural nutrition and wellness company offering many natural products for nutrition, sports nutrition and beauty. Their product lines range from skin care products that help reduce wrinkles, healthy dark chocolate that suppresses your appetite, supplements that help regulate your hormones naturally and to whole food vitamins that provide 9 servings of fruits and vegetables daily. Visit http://www.truehealthyproducts.com to learn more.
True Healthy Products
2460 N. Courtenay Pkwy, Ste. #210
Merritt Island, FL 32953
USA
888-400-2920