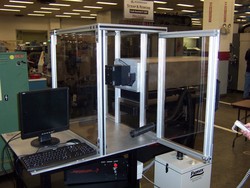 Gilbert, AZ (PRWEB) August 7, 2008
Worldwide Laser has complete laser systems available including Co2, YAG, and Fiber. These laser systems can operate as stand alone units or complete turn key laser systems.
Worldwide Laser, headquartered in Gilbert, AZ, and founded in 1986, has been building high quality complete turn-key custom laser systems for 22 years. The engineers at Worldwide Laser can review your laser system application then design and build a complete laser system for your requirements.
If the laser application in question calls for integration into an existing assembly or production line, WLSC engineers and technicians can build the laser, supply the software, & laser control interface. WLSC can then integrate the laser to your programmable controllers or virtually any other production line control method.
Worldwide Laser systems are successfully integrated with Allen Bradley pro-logics, ABB robots, and Omron controllers, just to name a few at many of our customers' larger industrial plants. WLSC laser controller software accepts serial input, RS232, barcode readers and scanners to allow for automatic file selection which will eliminate the costs and potential errors caused by operators and will cut labor time for our laser system end-users. The laser can fire from a mouse click, a foot pedal or even a digital input from a sensor or programmable logic control.
In cases where stand alone laser systems are required the Worldwide Laser engineers can design systems from relatively simple stand alone operations to much more complex systems involving feeder bowls, conveyer lines, automated loaders and unloaders, robots, vacuum arms, vision systems for recognition and/or directing the laser beam, and rotary dial tables.
Worldwide Laser controller software provides a custom 'front end' allowing programs written in VB or C++ to be added to the complete laser system control function thus database reporting for tracking products or other purposes can be introduced. Or custom user interface programs can be written to control motion system, number of jobs run, order of jobs run, etc. Worldwide Laser system division has VB and C++ programmers available to complete these custom programs for your complete laser systems.
Worldwide Laser engineers can design and build laser systems with Co2, YAG, or Fiber lasers and with wavelengths from 9.4um and 10.6 um for Co2 or 1064um, 532um, & 266um for YAG or Fiber lasers. Co2 lasers can be air cooled or water cooled from 10 watts to 150 watts and water cooled from 200 watts to 600 watts, Fiber lasers are air cooled, and most YAG lasers are water cooled. Generally complete laser systems from Worldwide Laser operate on 110v 15 amp or 220v 40amp electrical connections 440v 15 amp connections are offered for some laser systems. Worldwide Laser YAG systems can be either lamp or diode in the 1064um wavelength.
Worldwide Laser is one of the only remaining manufacturers of T.E.A. Co2 lasers the LP2000 series Lasers can be either spark gap or thyratron driven. Mask lasers from Worldwide Laser are often used for marking & drilling in certain industrial applications due to the high peak power and extremely fast processing speeds. Worldwide Laser also maintains a full inventory of parts & repair components for the Lumonics Series of Co2 Laser Mark lasers & provides refurbished Lumonics Laser Mark series lasers.
Worldwide Laser has a state of the art applications lab with Co2, YAG, Fiber, and T.E.A. mask Co2 lasers for sample marking or cutting any parts or products that are being considered for laser systems. Prior to building a complete laser system for your operations Worldwide Laser technicians can test your products in our applications lab and determine which laser, Co2/YAG/ or fiber and what wattage is most suitable for the required operation, then our engineers can suggest a complete laser system design with a price and delivery time frame quote. Worldwide Laser technicians visit your facility to provide installation and training for the laser system. All Worldwide Laser systems come with free unlimited system lifetime technical support via phone, fax, and e-mail, crating, shipping, install and training can be included in the quote for a single price with no extra costs.
Worldwide Laser offers leasing for all complete laser systems from 24 months to 60 months and either operating leases where costs can be expensed and not affect balance sheet or capital budgets or capital leases, often times these leasing options can lower the daily and monthly costs of laser system ownership and allow for the purchase and installation of the laser system. Let the Worldwide Laser sales team and administrative staff offer leasing cost options on complete laser systems for your operations.
Attached are some pictures of lasers and some examples of complete laser systems with vision, vibratory bowls, rotary fixtures, dial tables with electronic testers and vacuum arm parts for loading and unloading as a few examples of what the engineers at Worldwide Laser have built for our customers. Please contact Worldwide Laser if you have any questions or require any added details on these systems. Below is our contact information.
About Worldwide Laser
Worldwide Laser headquartered in Gilbert Arizona and founded in July of 1986 builds laser cutting, laser marking, and laser etching systems types of systems are Co2, YAG, & Fiber.
Worldwide Laser Co2 (LP8000 series) laser systems are either galvo head or fixed beam systems utilizing sealed beam Co2 laser tubes (from Synrad or Universal).
Worldwide Laser is one of the only remaining manufacturers of T.E.A. mask Co2 (LP2000 series) lasers can be driven either by spark gaps or thyratrons. In the mask T.E.A. business Worldwide Laser is one of the leading suppliers for new and refurbished parts or beam delivery components for Lumonics Laser Mark Series Lasers. Co2 lasers from Worldwide Laser can either be sealed beam or T.E.A. Co2 and can be utilized for high speed and high quality laser marking or laser cutting.
Worldwide Laser also builds diode and lamp pumped YAG [LP9000 series] lasers along with Fiber lasers for various laser marking, laser cutting, and laser etching operations. We provide Yag laser systems that range from 6 watts to 600 watts. Worldwide Laser offers Galvo based and Fixed beam laser systems with complete product handling.
Worldwide Laser has customers and offices in 10 countries in addition to the United States and a full range of product handling systems with technical support staff and installation engineers.
Worldwide Laser offers custom laser controller software & laser consulting and we can provide windows-based laser controller software for all of our Co2, YAG, & Fiber laser systems. For more information about Worldwide Laser call 480.892.8566 option 5 or visit our website at http://www.wlsc.com
###