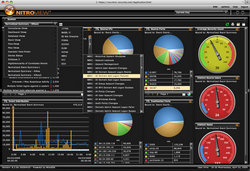 Compliance is becoming more operational in nature, especially around critical environments like those found in utilities, healthcare companies and financial institutions
Portsmouth, NH (PRWEB) April 23, 2009
NitroSecurity, Inc., the company responsible for the evolution of security information management into a real-time, operational system, has now brought the same advancements to compliance management, with the introduction of real-time compliance tools. The development highlights an increasing overlap between compliance requirements and ongoing information security operations, and promises to improve the effectiveness of both. At the time of release, real-time support for over 300 specific compliance requirements has been provided for NERC, PCI, and other regulatory compliance standards.
As security and compliance efforts continue to converge, there's a much greater sense of urgency around compliance operations. However, because compliance efforts involve large amounts of information that must be carefully audited, compliance management has always been limited to the reporting and analysis of historical events. With the introduction of real-time tools to perform these functions, compliance officers can now monitor conditions and react before a compliance failure turns into an actual data breach.
"Compliance is becoming more operational in nature, especially around critical environments like those found in utilities, healthcare companies and financial institutions," said Robert Huffman, vice president of business development at CoreTrace, a market leader in application whitelisting. "Now, being compliant is less about earning a check-box, and more about truly increasing the security of critical systems, getting more detailed information and being able to work with it in real-time--a combination that is finally becoming a reality."
NitroSecurity's new operational compliance dashboards provide that capability; bringing all events related to protected assets together with real-time analysis capabilities. "Other SIEMs have always been able to analyze data, but never quickly enough to provide real operational value, while compliance has always been limited to static reports," said Ken Levine, CEO of NitroSecurity. "We've turned all that around, providing both real-time reporting and analysis that's also focused on key compliance requirements."
About NitroSecurity
NitroSecurity develops security information and compliance management solutions that protect business information and infrastructure. NitroSecurity solutions reduce business risk exposure and increase network and information availability by removing the scalability and performance limitations of security information management. Utilizing the industry's fastest analytical tools, NitroSecurity identifies correlates and remediates threats in minutes instead of hours, allowing organizations to quickly mitigate risks to the organization's information and infrastructure.
NitroSecurity serves more than 500 enterprises across many vertical markets, including healthcare, education, financial services, government, retail, hospitality and managed services. For more information, please visit nitrosecurity.com.
# # #