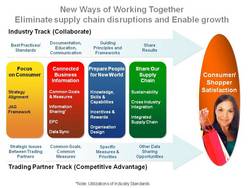 New Ways of Working Together
Sugar Land, TX (PRWEB) September 3, 2009
The current economic climate has created a new reality as we struggle to grasp the complexity, challenges and opportunities that lie ahead. It will no longer be business as usual as companies are forced to emerge leaner, stronger and more focused on profitable growth. The customer will still dominate the focus of strategy but the entire organization must align around a positive customer experience. Cooperation will be the result of effective collaboration as companies are forced to look to the future in an arena of optimism anchored to reality. The current economy proves that old ways of working together are not delivering the intended results and to emerge stronger we must find "New Ways of Working Together".
The NWWT research discovered that these commonly held views do not correspond to known realities:
1. More than 70% of participants think profit drives hierarchy and importance of performance metrics.
2. Almost 90% of participants say trading partners have structures, measures, or rewards that negatively impact performance.
3. More than 75% of participants believe that knowledge flows willingly internally.
4. More than 50% of participants believe knowledge flows willingly externally.
5. More than 70% of participants say their trading partner would describe them as supportive and collaborative.
FACT: There are numerous bottlenecks across the supply chain. Timely access to critical contacts and resources is limited. Business information needs to be connected, visible and shared. Cooperation must be the result of effective collaboration.
A research quote from a manufacturer - Consumers Punished by Rewards
"One of my buyer's key measures is unit item gross margin percent. I have continually presented ideas, programs and plans that significantly increase the categories total dollar sales by trading consumers up to higher ring items that the consumer desires. My buyer explained that he would rather have a slower growing category with a higher per unit gross margin percent because that's what he is evaluated on. When I countered with the fact that their Company can take total category sales increases to the bank but not a high unit gross margin percent on an item that doesn't sell, his response was that he can personally take his bonus to the bank!"
Each segment of the Videocast series will detail one of the four pillars of this new approach to the integrated consumer goods-to-retail value chain, and preview key themes of the highly anticipated new book by Blackburn and Deeter that will be released at the annual National Retail Federation (NRF) show this January. Each broadcast is designed to promote better understanding of why new levels of cooperation and collaboration across the consumer goods-to-retail supply chain have become competitive necessities, and how companies can take action to meet these challenges:
Part 1: Achieving True Consumer Centricity: How Retailers and Manufacturers Can Work Together on Initiatives and Systems that are Built from the Consumer Back

Featuring Jim Flannery, Managing Director - Customer Development, Procter & Gamble
Broadcast Date: September 9, 2009
Part 2: Next Generation B2B Systems Integration: The Essential Role of Integration, Visibility, and Information Sharing in Enabling the New Retail Value Chain Imperatives
Broadcast Date: October 6, 2009
Part 3: It All Comes Down to the People: Getting the Human Side of Transformation Right Through Organization, Metrics, Incentives, Training and More
Broadcast Date: November 3, 2009
Part 4: Connecting Supply Chains: How to Achieve Synchronization and Alignment in Cross Company Supply Chain Planning and Execution

Featuring Jim Flannery, Managing Director - Customer Development, Procter & Gamble
Broadcast Date: December 8, 2009
Attendees are encouraged to participate in a live QandA with the panelists, at the end of each videocast. The videocasts will be archived for later viewing for those who cannot attend the original broadcasts.
About Supply Chain Digest
Supply Chain Digest™ is the industry's premier interactive knowledge source, providing timely, relevant, in-context information. Reaching tens of thousands of supply chain and logistics decision-makers each week, our flagship publications - Supply Chain Digest and SCDigest On-Target - and web site (http://www.scdigest.com) deliver news, opinions and information to help end users improve supply chain processes and find technology solutions.
About Compliance Networks:
Compliance Networks is a leading provider of solutions to the retail supply chain that enable enterprises to optimize flow within their supply chain and make informed decisions that ultimately increase shareholder value. Since 2000, Compliance Networks' suite of vendor compliance and distribution management solutions accelerate retail profits by increasing sales, decreasing costs and mitigating risk throughout the extended supply chain. Compliance Networks is proud to serve leading retailers such as Kohl's, Burlington Coat Factory, Pep Boys, The Sports Authority, Bon-Ton Stores, Bobs, and Big M. Additional information can be found at http://www.compliancenetworks.com.
###