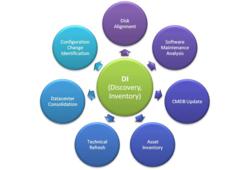 Snapshot eliminates the financial risk of having unlicensed applications on machines, regardless of physical location, and to reduce existing software license costs by removing unused licenses
Minneapolis, MN (PRWEB) May 30, 2012
Infrastructure Solutions, Inc. (ISI), a leading provider of IT infrastructure assessment and optimization software products and services, announces that Snapshot helped an international retailer with remote application license compliance audit on over 25,000 servers and Windows client machines located in 35 countries. The operating systems on the servers included UNIX, Linux, AIX, Sun OS, Windows 2003 and Windows 2008. The operating systems on the client machines included Windows XP, Windows Vista and Windows 7.
Faced with the need to have an accurate and up-to-date software license inventory prior to software license discussions with vendors, this customer selected Snapshot to provide discovery in inventory for their entire infrastructure. The entire discover and inventory was run remotely from the United States. ISI Snapshot took about two weeks of actual run time to complete the discovery and inventory of machines located in 35 countries. Snapshot generated a complete, detailed and accurate inventory of over 3 million applications and packages installed on these machines.
Snapshot, which can collect up to 120 data points (e.g. disk, host, applications, dependencies, etc.), was configured to collect 40 key data points that were important to the client. The hardware configuration included the make, model, serial number, number of CPUs, number of cores, amount of RAM, and IP addresses. Snapshot's flexible and powerful reporting features allowed the client to quickly select information fields and organize the collected information for export into customized reports, including the ability to see all applications on every device.
The Customer now plans to run Snapshot monthly as an audit on configuration changes and to insure they have accurate records on all servers and applications.
"This engagement clearly shows the value of Snapshot to companies having the need to accurately manage their software and hardware environments with a minimum of effort. Snapshot eliminates the financial risk of having unlicensed applications on machines, regardless of physical location, and to reduce existing software license costs by removing unused licenses," said Willard (Bill) Cecchi, President of ISI. "It allows cost efficient software compliance auditing, management and strategic planning. By running Snapshot on a periodic basis, they can easily maintain an up-to-date, accurate and detail inventory not only their application licenses, but their entire world-wide IT infrastructure."
Snapshot has been used to help public and private clients—across a wide range of industries—with IT performance optimization. To learn more about Snapshot or to request a demo, visit http://www.isiisi.com or contact us at sales(at)isiisi(dot)com.
About Infrastructure Solutions, Inc. (ISI)
Infrastructure Solutions, Inc. (ISI) is based in St. Paul, Minnesota and has been providing leading software solutions to enterprise IT organizations worldwide through distinguished international channel partners, including IBM and Cisco Systems, Inc. ISI products help organizations assess, design, cost analyze and manage the consolidation and/or virtualization of IT infrastructure and network software between physical, virtual, and cloud platforms (P2V, V2V, V2P, V2C).