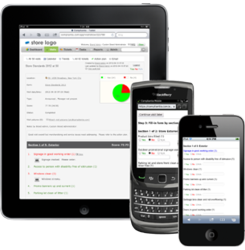 The cost of missed opportunities is enormous. With the right approach, you can do something about it.
Toronto, ON (PRWEB) August 14, 2012
Compliantia announces a significant milestone for its retail audit and task management software service: as of this week, one million standards and best practices have been checked in retail stores across the United States, Canada and Australia using the company's mobile, tablet and web software. "This is not just a win for retail brands that seek consistent and cost-effective in-store execution. This is also a win for customers who get better customer service and better merchandising at their favorite retail locations," says Fabien Tiburce, CEO of Compliantia.
Launched in 2009, cloud-based Compliantia was quick to sign-up large retail customers interested in driving retail execution and compliance with operational, merchandising and service standards. While some vendors insist on selling traditional "packaged software", Compliantia is more interested in selling a fully hosted retail audit "software service" – and letting retail customers try it at no risk and no cost.
"The economics of retail audits are compelling," says Mr. Tiburce. "Independent research indicates the total cost of sub-optimal merchandising to the U.S industry is approximately 1% of gross product sales. You then need to factor in other costs and missed opportunities: substandard customer service, health and safety and shrink – itself representing about 1.5% of store sales, on average, in the United States. The cost of missed opportunities is enormous. With the right approach, you can do something about it."
Some organizations have devised their own process, typically a "checklist" of some sort, usually completed in Microsoft Excel, which can be time-consuming and inefficient. Compliantia was designed to cut the time and expense of sending a district manager to a store. It is an "out of the box" retail audit and task management software as a service (SaaS) that runs on the web, smart phones and tablets. Compliantia's research indicates a store visit conducted with the company's platform saves the organization $73, everything else being equal. The savings are achieved by automation and the product's unique closed-loop workflow which ensures issues are identified, tracked and closed. "We encourage customers to try before they buy and take advantage of the free pilot. Try it in the field, with your own forms, users and stores. The only ROI that matters is the ROI you'll experience so try the software and let us know," adds Mr. Tiburce.
Compliantia works with retailers and wholesalers in the USA, Canada and Australia and is now expanding to Western Europe with two pilots underway in France. "We've experienced 'hockey stick' growth over the last 12 months so the next milestone is not far away. In-store execution helps the retailers and the customers alike. We couldn't be prouder of today's milestone," concludes Mr. Tiburce.
About Compliantia
Compliantia is software as a service for in-store execution, including retail audits, task management and ticket tracking. It runs on smartphones, tablets and laptops. Compliantia works with retailers, manufacturers and distributors in the United States, Canada and Australia.
For more information contact: http://compliantia.com, Sales & General Information, 1-800-351-8507 Ext. 101