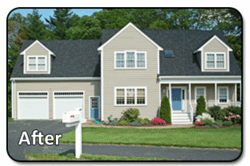 It's an interactive world we live in
Boston, MA (PRWEB) October 15, 2011
Everlast polymeric cladding (installed locally as Everlast Composite Siding) is a unique product rapidly gaining notoriety as a beautiful and low-maintenance alternative to vinyl siding that closely resembles real wood clapboard. Given the low pixel capacity of website pages, it's difficult to get a good glimpse of the quality and curb appeal of Everlast Composite Siding simply by looking at a low-resolution image. Now homeowners who are too early in their research process to request a free site evaluation or quote can download better quality images in order to get a better look at fully installed Everlast composite siding. The digital photo book includes several homes of various styles including capes, colonials, modified colonials and ranches. The colors of Everlast represented include Misty Taupe, Chestnut, Seaside Gray, and Harbor Blue.
On top of the recent Digital Photo Book launch Everlast Composite Siding has a growing amount of online project profiles, testimonials and videos on the website http://www.EverlastCompositeSiding.com . Homeowners who have Everlast on their home are invited to send their photos and siding transformation stories. "It's an interactive world we live in," and "it's more important than ever to give customers the opportunity to share about their experience." Statistically speaking most homeowners considering a home improvement project spend more time browsing the internet than walking a store, show room, or trade show. The team at Everlast Composite Siding believes developing the amount of information about their product on the internet will only help to reach more people in search of siding alternatives for their home.
Everlast Composite Siding is an experienced siding contractor in Massachusetts and serving much of New England. Featuring Everlast Polymeric Cladding, distributed by Norandex Building Materials Distribution Inc., the staff at Everlast Composite Siding is passionate about rejuvenating existing homes with low-maintenance and beautiful siding products.
# # #