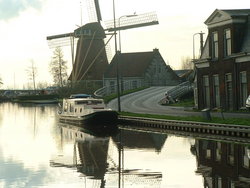 C-Loc vinyl sheet pile will last significantly longer than conventional materials such as wood, steel or concrete
Atlanta, GA (Vocus) September 26, 2007
C-Loc vinyl sheet pile, manufactured by Atlanta based Crane Materials International (CMI), was recently used for a large-scale dike repair project. The levee runs along N468 between the towns of Maasland and Schipluiden which is near Rotterdam, Netherlands.
The project was designed by Fugro Engineers B.V. of Breda, Netherlands. Fugro chose C-Loc for its longevity and economical price. The old dike was faced with tropical wood which had become badly deteriorated in less than 20 years. With the wooden seawall failing, the dike was eroding badly which threatened the roadway running along the top. "C-Loc vinyl sheet pile will last significantly longer than conventional materials such as wood, steel or concrete".
Verboon Maasland of Maasland, Netherlands was the construction company awarded the project. The company specializes in earthworks, small-scale dredging, vertical drainage and sewer systems to name a few. Phase one of the project consisted of installing 1,300 linear meters (4,200 feet) of C-Loc vinyl sheet piling in lengths ranging from 4.5 meters (15 feet) to 8.5 meters (28feet). Installation of the vinyl sheet piling was accomplished using a vibratory plate compactor.
The C-Loc vinyl sheet pile was supplied by Gampet Plastics B.V. of Ulft, Netherlands. Gampet distributes a wide variety of plastic roadway and waterway construction products. "CMI sheet piling was chosen for this project because no other company in the world manufactures as many composite piling products nor does anyone make products this strong".
Provincie Zuid, Holland is very pleased with the outcome of the project. More phases of dike repair are planned using CMI vinyl sheet piling.
CMI sheet piling products are used extensively in civil applications because of their inherent durability, corrosion and chemical resistance and ease of installation. Additionally, CMI's sheet piling products are extremely cost effective due to numerous patented design innovations. With sheet piling available in vinyl, aluminum, and FRP composite, CMI also offers a complete line of waterfront solutions including seawalls, docks, piers, and gangways.
Stacy Acton
CMI Waterfront Solutions
800-256-8857 Ext 1132
770-262-0375 Cell
Sacton @ cmilc.com
http://www.cmisheetpiling.com
# # #