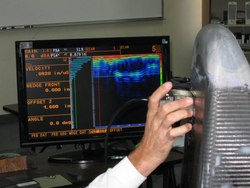 The addition of General Electric Inspection Technologies to the M-C-T line up of training courses is a natural fit for the week prior to our Motorsports Composites Course
Sonoma, Calif. (PRWEB) August 26, 2009
Motorsports Composites Training (http://www.M-C-T.org), in cooperation with General Electric Inspection Technologies, today announced a 5-day Ultrasonic Composites Testing Course to be held offseason on November 9th -12th ,2009. This course will be led by Trevor Lidell, who has extensive experience in composite inspection in the Royal Air Force and most of the Formula 1 teams in Europe.
Students will learn all aspects of stressed carbon fiber inspection, including ultrasonic theory, equipment and transducers, composite material inspection, straight beam, dual beam, delay-line, and ZIP probe usage, pulse echo immersion and contact testing, through transmission inspection, B-Scan and C-Scan capabilities, thickness measurement, and flaw/lamination detection and sizing. The course will highlight General Electric Inspection Technologies' Phasor XS portable Ultrasonic Flaw Detector. This portable and rugged device combines Phased Array with a code-compliant conventional ultrasonic flaw detector in an easy-to-use package. Contains 16/64 phased array channels and time gated TOPView for area scanning
"The addition of General Electric Inspection Technologies to the M-C-T line up of training courses is a natural fit for the week prior to our Motorsports Composites Course" , said Rob Klyver, president of M-C-T.
Enrollment in the 5-day course is open all students, and the next available courses will be held on November 9th - 12th, 2009. The cost for the course is $1150. Students attending the General Electric Inspection Technologies will receive a $100 discount on the November 16th - 20th, 2009 Motorsports Composites Training Course.
Please call (925) 899 9736 for more information or visit the Web site: http://www.m-c-t.org/
Contact:
Rob Klyver
President, Motorsports Composites Training, Inc.
29235 Arnold Drive, Sonoma, Ca. 95476
(925) 899-9736
About Motorsports Composites Training
Motorsports Composites Training provides students with extensive hands on carbon composite training using the highest quality equipment available in its state-of-the-art training center in Sonoma, California. Located at Infineon Raceway Motorsports Industrial Park, which is adjacent to the unique road course that hosts NACSAR, Indy Car, AMA Motorcycles, and NHRA events. The Sonoma Valley facility hosts the most diverse racing schedule in the country. Located just 30 minutes north of the Golden Gate Bridge in San Francisco, the 1,600-acre facility serves as the gateway to the beautiful Sonoma Wine Country.
###