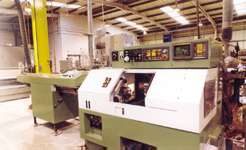 I'm An Engineer, Get Me Out Of Here allows students to interact online from their mobile phones, tablets and laptops, bridging the gap between the generations.
Accrington, Lancashire (PRWEB) January 17, 2012
A project funded by the Royal Academy of Engineering is set to encourage schoolchildren to take an interest in all aspects of the engineering sector. I'm An Engineer, Get Me Out Of Here will introduce engineering into the curriculum, concentrating on Maths, Design & Technology and Sciences, developing and deepening the students' understanding of the social impact of engineering.
'This project is an excellent idea,' says sales manager Lee Parnell, who supplies manufacturers with composite tubes and other essential components. 'The industry is a varied place- offering jobs for creative brains and logical thinkers.'
Supported by online resources, lesson plans and information sheets, I'm An Engineer, Get Me Out Of Here provides alternative means of bringing modern engineering into the classroom environment, involving working engineers to inspire the students.The scheme has many facets designed to encourage both participation with the students, providing online chat rooms, message boards and a dedicated Twitter account where children can interact with the project and ask questions of established individuals in the industry.
'I'm An Engineer, Get Me Out Of Here allows students to interact online from their mobile phones, tablets and laptops, bridging the gap between the generations.' Continues Parnell of Langtec, composite tubes manufacturers.
The students are encouraged to interact and ask the engineers questions about anything- from green energy, nuclear warheads, chemical development and childhood memories- and the engineers will answer, drawing from their own life and industry experiences.
'The online aspect of the scheme has been very well developed. The technological era young people live in means they can be perceived to be on a 'different' level,' Says composite tube manufacturer Parnell. 'Our generation has many who aren't computer literate, but it's second nature for our children.'
I'm An Engineer, Get Me Out Of Here is based on former schemes targeting other sectors; I'm A Councillor, Get Me Out Of Here launched in 2003 during Local Democracy Week, its success being realised by project leader Sophia Collins who recognised that the format could also be applied to science too. Local politics and science share the same difficulties concerning engaging the interest of young people, as both are often perceived as 'boring' and carry a widely held negative stereotype.
'Recent polls revealed young people often choose their careers without being aware of all the options available, and as a result choices can be limited.' Says Lee Parnell, sales manager for a composite tubes manufacturer. 'Sadly this means that some talented youngsters have already chosen alternative career paths when perhaps the engineering industry would benefit from their natural skill.'
2008 saw the launch of I'm A Scientist, Get Me Out Of Here after months of research carried out with teachers, pupils and leading figures in various science based industries. The success of the project resulted in two sessions a year from 2010, and by 2011, the scheme had hosted 734 live chat sessions involving 270 scientists answering 19,702 questions from 15,888 students.
'2012 sees the launch of the very first I'm An Engineer, Get Me Out Of Here,' says Parnell, of phenolic tube manufacturers, Langtec. 'After the success of the Councillor and Scientist projects, I have high hopes for the Engineer version.'
Completely free for schools to take part, the first I'm An Engineer, Get Me Out Of Here event is running from Monday 12th- Friday 23rd March, coinciding with National Science & Engineering Week. The 'X-Factor' style competition features 25 engineers spread across five zones, interacting with approximately 2,000 students from 50 schools around the country.
'Basing the project on a popular television show watched by millions of young people is genius,' says Parnell, who is employed by phenolic tubes manufacturer, Langtec. 'Presenting information about the subject in a format that students can easily recognise will encourage their interaction.'
The engineers are competing against each other to win a cash prize whilst the students are able to read about their individual work histories and ask questions, eventually voting for the engineer they wish to win the money.
'I wish I'd been offered this kind of opportunity,' says Parnell. 'And I urge students to get involved. It's my job to sell components for a phenolic tube manufacturers to lots of different industries. I have to understand the products, such as fibreglass tubes for example; how they're created and used, plus my role has a high level of people interaction that I really enjoy.'
The engineers with the fewest votes are eliminated from the competition, until one from each of the five different zones is crowned as winner. The project is supported and includes tested teaching methods that develop the students' skills and deepen their understanding of the subject.
'Engineering allows students to use their natural talents,' says Parnell. 'I'd urge any youngsters who genuinely enjoy tasks involving logic and creativity to get involved and consider a career that perhaps you haven't before. The results can be very rewarding.'
Funded by the Royal Academy of Engineering with support from the Institute of Engineering & Technology and Bloodhound SSC, I'm An Engineer, Get Me Out Of Here is one of over 70 projects funded to encourage engineers to share their experiences with students and inspire them to consider one of the many facets the industry for a future career.
'For me, the most exciting part of this scheme is that some of the students who take part will become the engineers of tomorrow,' says Parnell. 'And they will be able to implement the ideas we're having now to radically change many aspects of our world, from small components like fibreglass tubes to complex propulsion systems.'
The launch, scheduled for March 2012 encourages interested parties from the engineering and educational sectors are encouraged to submit their applications to take part.
'I'll be keeping a close eye on I'm An Engineer, Get Me Out Of Here,' says fibreglass tube manufacturer, Langtec's Lee Parnell. 'If this scheme is as successful as the previous Councillor and Scientist were, I'll be more than happy to welcome the next generation of engineers, designers and companies into the industry.'
This release was written by Manchester search engine marketing specialists, Vizcom as part of an SEO campaign for Langtec.
###