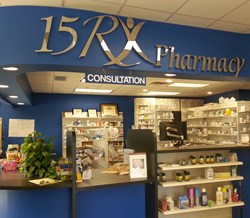 San Antonio, TX (PRWEB) September 10, 2013
15RX Pharmacy has begun providing flu shots for the upcoming flu season. Each year, complications from the flu put more than 200,000 people into hospitals in the U.S. and 15RX Pharmacy is recommending everyone get their yearly flu vaccine to protect themselves against the virus. Flu viruses change every year so it is important to vaccinate yearly. The pharmacy staff will be helping patients make their procedure quick, easy and affordable.
Through 15RX Pharmacy, most patients will receive their flu shot free of charge through their insurance. For cash paying customers, the cost will be $25. They are also offering services to administer flu shots at facilities like apartment complexes, neighborhoods, churches, senior homes, nursing homes, schools, assisted living facilities and more. Those interested in having flu shots for their groups may call 15RX Pharmacy to schedule.
15RX Pharmacy has been featured in the Express News in past years as a flu shot provider, and hopes to be able to reach an even wider audience this year. Their pharmacists are certified immunizers and they have won several prestigious awards for customer service. Their goal is to help everyone equally and on an affordable level.
They now have a second location open in Medical Plaza-2 of Christus Santa Rosa Hospital in Westover Hills. Call the pharmacy at 210-684-1579 (15RX-1) or 210-543-1579 (15RX-2) with any questions.
About the Company:
15RX Pharmacy is an independently owned family pharmacy established in 2011, that specializes in offering personalized customer care and low cost prescriptions to San Antonio, Texas and surrounding areas. 15RX Pharmacy is a compounding pharmacy and offers a wide range of durable medical equipment and supplies. Their competitive prices and 15 minute prescription services offer customers the opportunity to obtain immediate medical care without the long wait. At 15RX Pharmacy, the dedicated staff continues to receive high recognition for their excellent customer service and understanding of customer needs. Visit their website at http://www.15rx.com.