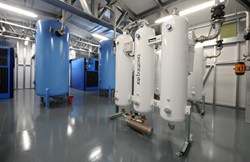 The complexity of designing a fail-safe system cannot be underestimated
Manchester, United Kingdom (PRWEB UK) 25 June 2013
The ultra-modern cutting edge system processes compressed air to breathing air which is supplied to operators wearing full breathing air suits operating in radioactive areas.
The system – nine months in design and 26 weeks in manufacture – also incorporates a fail-safe backup that guarantees a stored air supply in the event of power failure or system shut down on the plant, thus ensuring safe exit of all operators.
The complexity of designing a fail-safe system cannot be underestimated – says the Managing Director of the Trafford Park company who has a leading name for innovative services including compressed air systems, nitrogen generation, liquid and chemical filtration.
The nuclear plant's fail-safe system has been designed to provide breathing air to BS EN 12021 and showcases AFS's reputation for compressed air projects.
The package has now been assembled, commissioned and integrated at the fully automated plant from a specifically designed off-site build that offers a remote control, monitor and alarm system.
AFS will also be responsible for servicing and supporting the package, continuing to ensure safety standards are maintained, monitored and recorded in line with legislative requirements.
The bespoke design and assembly put together by AFS utilised a range of components from their suppliers, such as Compair for low pressure air compressors, Parker for breathing air equipment and Sauer for high pressure backup and bottled storage equipment.
More about AFS Ltd
AFS are a market leader, delivering cutting edge solutions to global manufacturing industries.
A highly innovative company, they constantly strive to deliver the most efficient and effective manufacturing process solutions to the worlds leading brands.
Their proven experience and high standards ensure they constantly exceed expectations. AFS pride themselves on building strong business partnerships, achieving this, offering the highest standards of technical expertise, advice, professionalism and support.
AFS are rapidly gaining a reputation for providing a unique combination of customer focused service and advanced product specification. They develop specifically engineered solutions based upon individual customer process requirements. This approach ensures customers always optimise their performance and production requirements.
As an independent company AFS are able to source the most innovative and effective solutions for their customers. This means they can always offer the most efficient and technologically advanced equipment available in the market place.
Services include:

Compressed air systems and management
Nitrogen generation
Liquid and chemical filtration
Turn-key packages
Fields service and support
Workshop in-house facilities
Audits and validations
AFS Ltd
Unit 3, Ordinal Street,
Trafford Park
Manchester-based
M17 1GB
Tel: 0845 872 2222
Email: info(at)afs-limited(dot)com
Web: http://www.afs-limited.com/