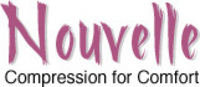 The selection of ScarHeal products was a natural one. Use of these crèmes, gels and silicone strips in conjunction with our high quality post-surgical garments ensures the best possible outcomes following most cosmetic procedures
Virginia Beach, VA (PRWEB) March 13, 2010
Nouvelle, Inc. is pleased to announce the addition of internationally-recognized ScarHeal products to its catalog as part of an ongoing commitment to superior results following cosmetic, plastic and aesthetic procedures.
"The selection of ScarHeal products was a natural one. Use of these crèmes, gels and silicone strips in conjunction with our high quality post-surgical garments ensures the best possible outcomes following most cosmetic procedures," explains Dawn Cover, owner of Nouvelle Inc.
As noted in a recent edition of Ladies Home Journal, ScarHeal products feature an outstanding combination of ingredients designed to help calm inflammation and tame overactive collagen production in scars resulting from surgery, burns, wounds, and keloids. The line features four proven products for treating scars resulting from any trauma to the skin. Additionally, they offer an innovative, non-surgical treatment for wrinkles:
Scar Fx® Silicone Sheeting - keloid scars, hypertrophic scars, breast scars, surgical scars, c-section scars (cesarean section scars), traumatic scars, abdominal scars, burns.
Scar Esthetique® - keloid scars, hypertrophic scars, surgical scars, traumatic scars, burns, stretch marks.
RejuvaSil® - keloid scars, hypertrophic scars, surgical scars, traumatic scars, burns.
Rejuvaskin® - dramatically reduces the appearance of fine lines and wrinkles.
Treatment with ScarHeal therapies may begin as soon as wounds and incisions are clean, dry, and sutures or staples have been removed. For more information, please visit http://www.nouvelleinc.com. These products represent the newest additions to the Nouvelle catalogue. Nouvelle manufactures and distributes post-surgical compression wear worldwide from its state-of-the-art facility in Virginia Beach, Virginia.
Compression garments and more.
###