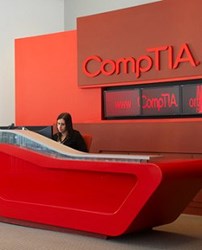 CompTIA will help Telarus partner work with VARs more effectively
Sandy, UT (PRWEB) May 14, 2013
Telarus, distributor of commercial data, voice, and cloud solutions, today announced that it has become a member of CompTIA, a non-profit trade association focused on advancing the global interests of IT professionals and companies through education and certification. The move paves the way for Telarus to offer its 35 employees and 1,200 solution providers with cloud and managed service training.
"CompTIA is the go-to organization for cutting-edge research, training, and certification in the telecom and IT industries," commented Adam Edwards, president of Telarus. "We look forward to creating opportunities for them to train our channel partners as well as our employees. As the IT/Cloud and telecom worlds continue to collide, we need to make sure that we are equally competent in both areas so that we can provide excellent service our partners."
Telarus partners will experience their first CompTIA training on May 14, 2013 in Austin, Texas during the company's Technology Innovation Conference and again on June 19, 2013 in Deer Valley, Utah at the Telarus Partner Summit.
"We welcome Telarus to the CompTIA telecom community," added Annette Taber, Vice President of Channel Strategies for CompTIA. "For us, this is a great opportunity to provide value to the employees and partners of Telarus, to educate them on the IT and managed services world, and to ensure their management has the most up-to-date industry findings of our research department. We look forward to a long relationship together."
About CompTIA
CompTIA is the voice of the world's information technology (IT) industry. Its members are the companies at the forefront of innovation; and the professionals responsible for maximizing the benefits organizations receive from their investments in technology. CompTIA is dedicated to advancing industry growth through its educational programs, market research, networking events, professional certifications, and public policy advocacy. Visit us online at comptia.org, follow CompTIA on Facebook at facebook.com/CompTIA, or follow us on Twitter at @comptia.
About Telarus
Telarus, Inc., a value added distributor that holds contracts with the world's leading commercial telecommunication carriers, like Comcast Business Class, making it easier and more profitable for solution providers, VARs, and MSPs to sell and source voice and data WAN solutions, including T1 service and ethernet over copper broadband. Our patented GeoQuote platform combines real-time carrier pricing with advanced research features and branded proposals. Telarus' experienced Sales staff is strategically focused on enterprise WAN and high-capacity bandwidth solutions, making it easier to find the best offer, every time. For its part, Telarus has been named the top Master Agent by the members of the Telecom Association in each of the past three years, the first and only company in the carrier channel to accomplish this feat. Whether you are a top producer or a voice-and-data expert just starting out on your own, there is a place for you in the Telarus community. For more information on the Telarus partner program, please visit telarus.com or call the new partner hotline at 877-346-3232.