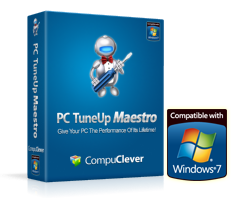 PC TuneUp Maestro has successfully passed the high standards of compatibility, reliability and performance of Windows 7 logo certification
Victoria, BC (PRWEB) May 10, 2011
CompuClever Systems Inc announced today that PC TuneUp Maestro has achieved Windows 7 logo certification. This certification recognizes that PC TuneUp Maestro, a PC maintenance and software tool engineered to enhance computer system performance and stability, run applications and programs faster, and improve Windows startup speeds, has passed tests for compatibility and reliability with Windows 7.
"PC TuneUp Maestro has successfully passed the high standards of compatibility, reliability and performance of Windows 7 logo certification," said Larry Yang, CompuClever Director of Product Development. "By working with Microsoft Corp., CompuClever's engineering team has been able to focus on incorporating industry-leading best practices and the latest technology to make PC TuneUp Maestro a stable, worry-free software tool that is compatible with Windows 7."
Designed to simplify and automate the task of keeping PCs running smoothly, PC TuneUp Maestro features push-button maintenance and optimization for Windows systems, including registry and hard drive cleaning and optimization, Windows Startup management, system backup and restore, Smart TuneUp scheduling, and other powerful tools that enhance performance and stability while optimizing system operating speed.
As "Compatible with Windows 7" software, PC TuneUp Maestro has been tested for compatibility and reliability on Windows 7, and has passed tests to minimize the possibility of crashes, hangs, and reboots, and ensures compatibility with Windows 7, both 32-bit and 64-bit editions.
ABOUT COMPUCLEVER
CompuClever's mission is to provide computer users with a more enjoyable computing experience by offering products and services, powered by our knowledge, know-how and expertise, to improve computer performance and stability. Our products are designed from the ground up to provide powerful optimization and management tools that can be used quickly and effectively, even by novice computer users. CompuClever was founded in 2010, and has offices in Canada and China.
CONTACT
Media(at)CompuClever(dot)com
305 - 870 Short St.
Victoria, BC, Canada, V8X 2V5
All product and company names herein may be trademarks of their respective owners.
###