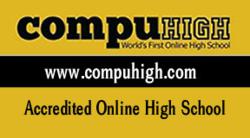 These courses challenge students' critical thinking skills, and our teachers work one on one with students to revise each lesson until they attain mastery
(PRWEB) November 27, 2012
CompuHigh Online High School has partnered with EduKan and Seward County Community College to offer a new flexible diploma program that allows students to earn college credits while finishing their high school diploma at CompuHigh. This program allows advanced students with at least 10 high school credits to take a college level version of the high school classes they might normally take to earn a diploma at CompuHigh.
Courses now being offered for dual credit include American National Government, Composition 1, Principles of Biology, College Algebra, and College Algebra 2. Students in CompuHigh's Advanced Diploma program can complete any or all of these courses to fulfill one social studies requirement, senior English, one lab science requirement, and/or one or two math requirements. Students are required to pass a proctored exam upon completion of each course in order to receive 3 college credits for each of the classes.
Ian Rudick, marketing director at CompuHigh points out that the private school tuition is competitively priced. "Our cost of $2,000 per year for a high school diploma with 15 college credits is quite a bargain even if it took two years to complete this program." Rudick quotes the 2012 price for CompuHigh's Advanced Diploma Program.
College credits are issued by Seward County Community College (SCCC), an EduKan partner, located in Liberal Kansas. Students wishing to continue college elsewhere can get an official transcript from SCCC for an additional transcript fee of $125 per course. Acceptance of any transfer credits is always up to the discretion of individual colleges and universities, so students must check with their college of choice about transferring these SCCC credits to that school.
These new dual credit courses are designed using CompuHigh's unique self-paced, mastery learning model. Students can do their coursework at any time with no deadlines for assignments. Students work one on one with a teacher in each course, revising assignments until mastery on that lesson is achieved. "These courses challenge students' critical thinking skills, and our teachers work with students to revise each lesson until they attain mastery," says Jeannette Geib, educational director at CompuHigh. "After working through these courses, students earn both college credit, and the skills needed to be successful in higher level college classes."
CompuHigh's Advanced Dual Credit program has year round, open admission. Families can enroll their students at any time of year. Enrollment forms faxed with payment before 3:30 pm EST will be processed the same day. Original enrollment and payment must then be mailed.
CompuHigh is an AdvancEd accredited online high school established in 1994. CompuHigh offers both individual courses and flexible diploma programs. CompuHigh's private diploma program high school is called Whitmore School. For more information about CompuHigh, visit http://www.CompuHigh.com or call 1-866-859-0777 to speak with admissions specialists Melissa or Kassie.