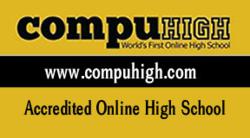 When at-risk students have the opportunity, resources, and flexibility to succeed, they do.
(PRWEB) January 31, 2013
CompuHigh Online High School analyzed data regarding its diploma program students enrolled during the 2009 school year and found that 49% of its students could be considered "at-risk" due to failing 2 or more courses at their previous school, or because they had an IEP or an extenuating life circumstance. Of these students, 87% graduated or transferred after successfully completing courses.
"At CompuHigh we've always believed that 'at-risk' students are not necessarily students with lower academic aptitudes," says Jeannette Geib, CompuHigh's Educational Director. "Most students fall behind because they have needs or circumstances that are not compatible with a traditional school environment. CompuHigh's curriculum and methodology were built from the ground up to meet the needs of these students. We've found that when at-risk students have the opportunity, resources, and flexibility to succeed, they do."
Of this 2009 cohort, at least 78.5% of students who graduated with a CompuHigh diploma went on to college or technical schools. For the 'at-risk' students who earned a CompuHigh diploma that number is 63%.
Lead Guidance Counselor Marianne O'Doherty explains, "We have a self-paced program, so we do not have 'on time graduates' versus 'late graduates' as you may see in the national statistics. A student is just as likely to 'graduate' today or tomorrow as they are to graduate exactly on May 31 of their fourth year of high school. In this 2009 cohort we analyzed for this data, we have students who are still with us actively working toward their diploma; we simply did not count those students in the statistics since we don't know their outcomes yet."
"These 'at-risk students' may have otherwise dropped out of high school. Now they are on the road to success. Each one represents a story of triumph over some sort of adversity. Each student worked hard and persevered to complete their coursework at CompuHigh," says Geib. "Our curriculum is challenging, but our 'mastery learning' model allows students to keep trying and take as long as they need on each lesson until they finally get it right. These students have not only learned something about math and English and social studies, they have learned to be persistent; they have learned to organize their own time and set their own goals. Above all they have discovered how capable they really are."
"On the flip side, the self-paced, mastery curriculum at CompuHigh works equally well for accelerated students," points out O'Doherty. "These students can move through the curriculum without being held back by other students who need more time. They work one on one with a teacher who recognizes their strengths and challenges them to work to their full potential. They may be able to take college courses while still in high school or graduate early."
CompuHigh has two diploma tracks to customize the learning experience to meet individual students' need and goals. The "General Studies" diploma track and the "College Prep" diploma track each have different requirements and offer different level courses.
CompuHigh is an accredited online high school established in 1994. CompuHigh offers both individual courses and flexible diploma programs . CompuHigh's private diploma program high school is called Whitmore School. For more information about CompuHigh, visit http://www.CompuHigh.com or call 1-866-859-0777 to speak with Admissions Specialists Melissa or Kassie.