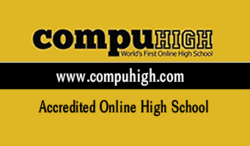 We develop curriculum tailored specifically to our self-paced, mastery model that provides plenty of opportunity for teachers and students to discuss the lessons and probe the content further until mastery is achieved.
(PRWEB) February 07, 2013
CompuHigh Online High School announces its plan to meet Common Core State Standards for Math and English Language Arts by August 2013. CompuHigh will develop a plan for Social Studies curriculum updates after the standards in Social Studies are published later this year.
According to the Common Core State Standards, "The standards are designed to be robust and relevant to the real world, reflecting the knowledge and skills that our young people need for success in college and careers." They also go on to explain the limitations of the standards, "The Standards define what all students are expected to know and be able to do..they do not—indeed, cannot—enumerate all or even most of the content that students should learn...A great deal is left to the discretion of teachers and curriculum developers."
"Many online schools purchase pre-packaged curriculum developed by large corporations such as Pearson," points out Educational Director Jeannette Geib. "We have chosen to develop courses 'in house' because we need curriculum tailored specifically to our self-paced, mastery model that provides plenty of opportunity for teachers and students to discuss the lessons and probe the content further until mastery is achieved."
In CompuHigh's Mastery Learning model, after students submit their first attempt at a lesson assignment, they then continue to work on that lesson with a teacher who will give additional resources and ask additional questions until the teacher determines that the objectives of that lesson have been met.
"Some standards will require creative, 'out of the box' thinking to fit into our unique educational model and LMS," Geib explains. "For example, some of the English standards involve peer collaboration and discussion. Since each of our students is working at their own pace, there aren't whole class discussions of the same reading assignment like the standards seem to envision. We are developing curriculum that will build these skills in our students while maintaining our asynchronous learning environment."
According to Principal and Lead Software Developer, Stan Kanner, "We've been continuously improving our proprietary software systems to incorporate more interactivity within the lessons as well as multi-media content. New lessons will be designed to make the most of these system upgrades."
"CompuHigh's curriculum has long met rigorous multi-state standards," says Lead Guidance Counselor Marianne O'Doherty. "Many students come to us after years of slipping through the cracks at traditional brick and mortar schools. They've not really ever been held to the standards that the district has adopted. When it comes down to just a student and a teacher working together one-on-one until they get each assignment up to standard, there is no way to 'dodge the bullet' so to say. At CompuHigh when we adopt a standard, that means each student is held to that standard, and they cannot progress until they meet it. Often new students at CompuHigh find their courses more difficult than they are used to because the individualized instruction holds them so accountable. However, after time they begin to appreciate how much they are learning and feel confident in what they are capable of."
Geib adds, "The majority of our teachers have been working with CompuHigh for 10 or more years, and they are truly talented at guiding students to mastery and at detecting any attempts to cheat or otherwise avoid working to their full potential."
The Common Core State Standards were developed by the National Governors Association Center for Best Practices and the Council of Chief State School Officers. They include learning outcomes only for Math and English Language Arts. Supplemental standards for reading and writing in science/tech. and history/social studies are also included, but these are not intended as content standards. Standards for Social Studies are being developed by the Council of Chief State School Officers and are slated to be released this spring.
CompuHigh is an accredited online high school established in 1994. CompuHigh offers both individual courses and flexible diploma programs. CompuHigh's private diploma program high school is called Whitmore School. For more information about CompuHigh, visit http://www.CompuHigh.com or call 1-866-859-0777 to speak with Admissions Specialists Melissa or Kassie.