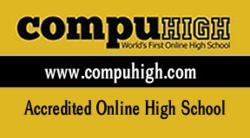 We have families tell us all the time that they learned more in one year at CompuHigh than all the rest of the time they spent in public high school.
(PRWEB) May 24, 2013
CompuHigh online high school strives to promote rich and varied educational alternatives across the United States. CompuHigh recognizes that state educational laws do not fit every family's needs. As a private school, CompuHigh is independent of any particular state's requirements. This allows greater flexibility for students in several ways. CompuHigh's teachers work one-on-one with students to bring each learner up to high academic standards at their own pace. Teachers at CompuHigh meet students at whatever level they are at, and give them the extra help, resources, and time they need to meet the learning objectives. This individualized learning is enhanced with greater flexibility in assessments, requirements, and schedules.
No Standardized Exams
Public schools, including online charter schools, require students to take standardized exams. Progressing and even graduating from high school is often dependent on how well students do on these exams in public schools. CompuHigh believes this can present a significant barrier to the success of some students who have test anxiety or are simply poor test-takers. CompuHigh's private school does not administer standardized exams to students in any state. Instead, CompuHigh's accreditation recognizes students' self-paced mastery of the course material as proof that the students are truly learning. According to Head Guidance Counselor Marianne O'Doherty, "CompuHigh believes that standardized exams cannot adequately summarize a year's worth of hard work and learning for most students. The structure, pace, and high-pressure setting of standardized exams are not conducive for most students to perform to their fullest potential."
Graduation Requirements
CompuHigh has two diploma options: General Studies, requiring 18 classes, and College Prep, requiring 22 classes. Some states, however, require as many as 24 classes. Students can choose an 18 credit diploma at CompuHigh even if they live in states requiring 24 credits. CompuHigh also transfers in any high school credits a student has previously taken at a public or accredited high school. According to CompuHigh's Academic Director, Jeannette Geib, "This might sound in some cases like an easier way out, but not when you compare sitting in a public school classroom staring blankly out the window to actually reading, researching, writing, and communicating with your teacher for 20 to 40 lessons to get a credit at CompuHigh. We have families tell us all the time that they learned more in one year at CompuHigh than all the rest of the time they spent in public high school. This is true both for students who were having serious problems in school and those who were cruising through."
Attendance
Online public charter schools require proof of daily attendance and in some states also require live 'face-time' with a teacher. CompuHigh believes that these laws can severely limit the options of students for other pursuits such as training and practice in athletics or the arts, traveling, working, caring for family members, and so forth. As a private online school, CompuHigh does not have to report attendance to a student's state. Students are truly able to work at their own pace even if life circumstances prevent them from logging in everyday. O'Doherty explains, "We know that families typically choose online schooling when traditional schools were not working for them for so many different reasons. When daily attendance is required in online schools, we've seen what contortions students and even schools can go through to 'fake it'. Most families value their children's education highly and will make it work. Most of our students work hard and make steady progress through their courses."
Cost
Cost may be the main factor prompting families to choose public schools which are free to families in a particular attendance area. However, as a small business, CompuHigh strives to remain affordable to families by keeping overhead and administrative costs low. Yearly tuition in CompuHigh's diploma program is $1,185 all inclusive (rate for 2013 school year), which is significantly less than most local and online private schools. This tuition provides all course material and a teacher in every class who works one-on-one with each student on every lesson.
CompuHigh is regionally accredited by AdvancEd (NCA-CASI and SACS-CASI). These accrediting bodies are recognized by the U.S. Department of Education and the Council for Higher Education Accreditation. CompuHigh is also approved by the NCAA as a core course provider.
For more information about CompuHigh, visit http://www.CompuHigh.com or call 1-866-859-0777 to speak with Admissions Specialists Melissa or Kassie.