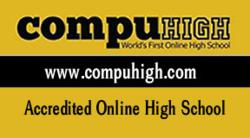 We are here to provide a real alternative for students.
(PRWEB) April 09, 2013
As the issue of gun violence has been at the forefront of media attention, CompuHigh officials realize that schools can be places of all sorts of violence. In some neighborhoods, the public high school can be a war zone. But even in schools with less overt violence, more subtle forms of psychological violence might be making your son or daughter terrified to go to school.
According to the APA, 5-15 percent of students are the victim of chronic bullying. This can have devastating effects on young people including depression, anxiety, and decreased academic achievement. The effects spill over to bystanders who are the constant witnesses of violence and cruelty among their peers and can feel powerless or too intimidated to do anything about it.
CompuHigh founder and school principal, Stan Kanner, explains that his daughter's experience in high school was inspiration for starting an online high school. "My daughter always did well in school, but when she got to high school she was so miserable that she couldn't stand to go. One day, a knife fell out of her backpack and she explained to me that she felt like she needed it to protect herself at school. I knew then that she had to get out of there. But at the time, the only other option was to get a GED, so that's what she did. She went on to earn a master's degree, and I set about trying to ensure that there would always be another option for kids facing similar situations."
"Families need to think about not only whether their child is physically safe at their local high school, but whether the social environment at that school is actually eroding the unique character and personality of their children," says Educational Director Jeannette Geib. "People often think that building social skills and resilience can only be done within the peer group at a traditional school, but I don't think that is true. There are plenty of wholesome and challenging social experiences than young people can have outside of school. If a child is afraid to go to school, that's never a good thing, and it's not going to build character."
"One of the things that is different about our school is that we do not provide any opportunity for cyber bullying. Our students do not have contact with each other, and there is no online 'chat' forum," explains Lead Guidance Counselor Marianne O'Doherty. "We are here to provide a real alternative for students."
Each class at CompuHigh has a teacher who works with students on each lesson. Work is asynchronous, which means there is not a particular time of day that a student has to log on to have a class. Students can take as long as they need on each lesson and submit their work at any time of day or night. The teacher will respond promptly and help the student on any parts of the assignment that still need work until the student 'masters' that lesson. This self-paced, mastery system allows a great deal of flexibility for students with varying abilities, responsibilities, and interests beyond school. One student noted, "I had so much trouble with going to high school, but online I didn't have to worry about others judging me on what I look like. I also didn't have to worry about favoritism. I was able to work on homework when it was convenient for me. I mean I could be in my PJs at 2AM in the morning and work on homework."
CompuHigh is an accredited online high school established in 1994. CompuHigh offers both individual courses and flexible diploma programs. CompuHigh's private diploma program high school is called Whitmore School. For more information about CompuHigh, visit http://www.CompuHigh.com or call 1-866-859-0777 to speak with Admissions Specialists Melissa or Kassie.