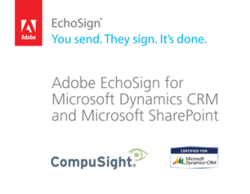 CompuSight is a proven Microsoft Partner and has developed a seamless integration that leverages the best of EchoSign and Dynamics CRM and SharePoint
Seattle, WA (PRWEB) March 20, 2012
CompuSight, a leading technology consulting firm and a Microsoft Gold CRM Competency Partner, announced today the immediate availability of Adobe® EchoSign® for Microsoft Dynamics CRM 2011 and Microsoft SharePoint 2010. CompuSight worked with Adobe EchoSign to deliver this groundbreaking combination to the marketplace. With Adobe EchoSign for Microsoft Dynamics CRM 2011, users will experience a more efficient and effective cloud-based contracting process and an improved customer experience. Now, sending agreements from Microsoft Dynamics CRM 2011 and Microsoft SharePoint 2010 for signature is as easy as sending an email, and real-time tracking and status updates are available in a single workspace.
"CompuSight a Microsoft Partner with multiple Gold Competencies also named an Early Adopter for Microsoft Dynamics CRM 2011, recognized early on the value of electronic signature integration with Microsoft products." said Adi Saric, CompuSight's Chief Executive Officer. "Adobe EchoSign electronic signature service enhances the capabilities of Microsoft Dynamics CRM and Microsoft SharePoint 2010. Users can send agreements for legally binding electronic signatures directly from Microsoft Dynamics CRM 2011, view real-time transaction history, and auto-associate agreements with any CRM entity."
Adobe EchoSign for Microsoft Dynamics CRM 2011 automates the signature process from the request for signature to the distribution and filing of the executed agreement. Some additional features that are highlighted in the Microsoft Dynamics CRM 2011 integration include:

Data exchange: Merge the CRM data with document templates and send to a recipient for an instant electronic signature. Collect data in documents and automatically update CRM entities with the form field entries when the deal is done.
In-person signing: Allow sales reps to access contracts immediately via tablets or laptops for those contracts that need an in-person signature.
Contract expiration: Enable users to add a contract expiration date to assure that agreements are not available for signature indefinitely.
Easy contract management: Executed agreements are automatically stored to the CRM record from which they were generated.
Global signing: Signers can electronically sign documents in their native language. More than 20 international languages are supported.
Advanced reporting: Real-time dashboard visibility into all agreements out for a signature. Receive activity feeds on any agreement action.
"It's a natural extension for EchoSign to be integrated with leading CRM applications," said Jason Lemkin, vice president of Web business services at Adobe. "CompuSight is a proven Microsoft Partner and has developed a seamless integration that leverages the best of EchoSign and Dynamics CRM and SharePoint, giving users powerful visibility into status of agreements to ultimately close deals faster."
About CompuSight:
CompuSight provides targeted cutting-edge technology consulting services to organizations around the globe. With operations in North America and Europe, CompuSight's dynamic and highly skilled professionals specialize in technology consulting and software implementation, information systems integration, and business intelligence. Our team is passionate about the technology industry, and our software packages reflect quality and originality. CompuSight has achieved Gold in five competency areas: Software Development, Customer Relationship Management, Portals and Collaboration, Business Intelligence, and Data Platform. For more information on CompuSight products and services please visit http://www.compusight.com.
All trademarks and trade names mentioned herein are the properties of their respective holders and are hereby acknowledged.