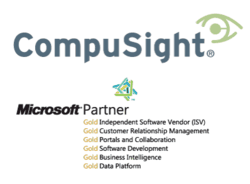 We look forward to helping more clients meet their business needs by leveraging leading Microsoft technologies.
Seattle, WA (PRWEB) April 30, 2012
CompuSight Corporation, a leading technology consulting firm, today announced it has achieved six gold competencies in the Microsoft Partner Network. The firm achieved Gold status in Software Development, Business Intelligence, Data Platform, CRM, Portals & Collaboration, and most recently Independent Software Vendor (ISV), demonstrating its ability to meet Microsoft customers' evolving needs in today's dynamic business environment and distinguishing itself within the top 1 percent of Microsoft's partner ecosystem.
To earn a Microsoft gold competency, partners must successfully complete exams to prove their level of technology expertise, and then designate these certified professionals uniquely to one Microsoft competency, ensuring a certain level of staffing capacity. They also must submit customer references that demonstrate successful projects (along with implementing a yearly customer satisfaction study), meet a revenue commitment, and pass technology and/or sales assessments.
"Earning six Microsoft Gold competencies puts CompuSight in an elite group and differentiates us as a firm with extensive Microsoft expertise and experience," said Adi Saric, CompuSight's Chief Executive Officer. "This has been accomplished through the diligent efforts of CompuSight's consultants and our focus on growing our strategic partnership with Microsoft. We look forward to helping more clients meet their business needs by leveraging leading Microsoft technologies."
"The Microsoft Partner Network is designed to empower solution providers to succeed in today's business environment. By achieving the prestigious Gold competency, participating companies are provided with a rich set of benefits, including increased customer visibility through branding and accessibility, training and support," said Jon Roskill, Corporate Vice President, Worldwide Partner Group at Microsoft Corp. "We are proud to put forth a program that provides the right resources to help a company develop the expertise customers demand in today's competitive market and also provides the community and infrastructure that can connect them to one another, lowering costs for all parties."
The Microsoft Gold Competency signifies to the market that a company has demonstrated the highest level of skill and achievement within a given technology specialization. All 29 Microsoft competencies are designed to help differentiate a partner's specific technology capabilities, helping customers find solution providers quickly and easily. Each competency has a unique set of requirements and benefits, formulated to accurately represent the specific skills and services that partners bring to the industry.
About CompuSight:
CompuSight provides targeted cutting-edge technology consulting services to organizations around the globe. With operations in North America and Europe, CompuSight's dynamic and highly skilled professionals specialize in technology consulting, software implementation, information systems integration, and business intelligence. Our team is passionate about the technology industry, and our software packages reflect quality and originality. For more information on CompuSight products and services please visit http://www.compusight.com.
All trademarks and trade names mentioned herein are the properties of their respective holders and are hereby acknowledged.