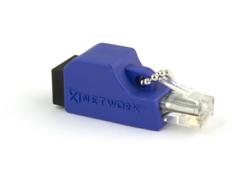 Networx™ loopback testers are very easy to use and get the work done within seconds
Quakertown, Pa (PRWEB) June 20, 2013
Ever since the startup of the ComputerCableStore™ online marketplace, ComputerCableStore™ has tried to enhance the customer experience and fill its shelves with every network component and computer cable possible.
The most recent addition to the plethora of products already on the ComputerCableStore™ is the Networx™ Loopback testers. These Ethernet loopback testers are the perfect tools for quickly checking whether the connection of a network line is good or bad. Networx™ loopback testers will totally eliminate the need for the network technicians to carry unnecessary, bulky cables and adapters along with them into the field.
"Networx™ Loopback Testers are very easy to use and get the work done within seconds," says Jeramie Cavanaugh, the Network Administrator at ComputerCableStore™. He further adds, "It's as simple as connecting the loopback tester to a cable or jack that leads to a receiving switch or router. If the LED is illuminated, then the connection is good."
These Networx™ loopback testers were designed in a small, compact size that ensures its easy use even in the tightest of corners and the most congested wiring closets. At the same time, the molded factory grade casing of the loopback tester ensures a long lasting life and protection from unwanted breakage.
ComputerCableStore™ manager, George McDowell, has said that they are stocking various different kinds of loopback testers in their warehouse. These include both the standard 10/100 Ethernet adapters, as well as the more popular gigabit loopback testers. The wide selection provides a wider flexibility as they can buy whichever loopback tester their needs require.
Online shopping is all about the convenience and flexibility customers are granted. And ComputerCableStore™ seems to know its job. These Networx™ loopback testers, along with providing both 10/100 base and gigabit ethernet support, come with a short sturdy chain. As the manager puts it, "Just wear it and you are good to go."