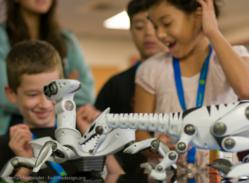 We've come up with a way to engage students and keep technology education accessible.
Campbell, CA (PRWEB) April 27, 2012
iD Tech Camps, the nation's leading computer camp and technology educator, is on a campaign to make technology education available to students year-round. In addition to weeklong, day and overnight summer programs for ages 7-17, the education giant offers free online workshops to its alumni and currently registered students.
"Year-round learning is something that parents and students have repeatedly requested," explains iD Tech Camps CEO Pete Ingram-Cauchi, "so we've come up with a way to engage students and keep technology education accessible beyond the summer months."
Each monthly workshop focuses on a different topic ranging from how to create iPhone® games with GameSalad® to robotics engineering with Java. Available exclusively to alumni of the previous season and those registered for the current season, the workshops help students keep their tech skills sharp both before and after camp.
The April workshop, scheduled for Saturday the 28th at 10 a.m. Pacific Time, is titled "Virtual Battle Bots in Java." The workshop will be held in a webinar format and focus on how to program robots for an arena environment with Robocode and Java. Each workshop is led by a live iD teacher and features a question and answer session at the end of the instruction period.
Another option for students interested in year-round tech education is iDTech365.com. The subscription service, which debuted earlier this year, engages students with tech videos and tutorials, community forums, and online gaming tournaments.
During the summer, students can go more in depth in any subject that interests them with iD's selection of over 40 computer classes for kids. Students who enjoy "Virtual Battle Bots in Java" may be interested in "Programming in C++," "Programming in Java," and "Robotics Engineering with VEX®." Ages 13-18 can also take "Robotics Engineering & Coding" in specialized pre-college iD Programming Academy sessions.
Check availability of these programming and robotics courses at interalDrive.com.
About iD Tech Camps and iD Teen Academies
iD Tech Camps, the World's #1 Tech Camp, provides STEM education summer programs for students ages 7-18. Learn how to make your own video game, program your own iPhone® app, create 3D models with Autodesk® Maya®, build websites with Flash®, and more. Weeklong programs are held at prestigious universities throughout the U.S. including Stanford, Princeton, UCLA, and others. Teens participate in intensive two-week, pre-college Academy programs: iD Gaming Academy, iD Programming Academy, and iD Visual Arts Academy. Visit http://www.internalDrive.com or call 1-888-709-TECH (8324) for more information.