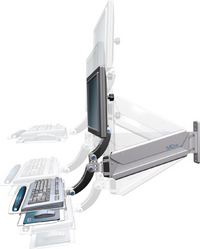 Medford, Oregon (PRWEB) July 17, 2009
ICWUSA has released a new solution to the sit-stand workstation. The true counter-balance engineering of the new MD arm allows for the smoothest movement in the industry. Parallel linkage allows you to position the arm without affecting the tilt of your monitor or keyboard. Positioning the monitor arm can be done one-handed since there is no need to tighten the arm in place. Use your workstation as you sit or stand up with the MD arm's 2 feet of effortless vertical movement.
The super-slim body design of the MD monitor arm works in a sit-stand workstation where space is tight, while still allowing for internal cable management. Cords can be run through the monitor arm, keeping the installation clean and free of loose cables.
The design of the MD LCD monitor arm offers greater lateral stability for today's wider LCD flat-panel screens. To provide dependable tilt and pivot for heavier monitors, tilt joints supply a positive stop, instead of friction based tilt that can slip under the weight.
The MD monitor arm is machined out of aircraft grade billet aluminum and is powder coated with a high gloss for a durable, lasting finish. Hand assembly ensures that every single LCD arm is checked and rechecked throughout the assembly process, delivering the highest quality product to you.
The MD LCD monitor arm is being offered at MSRP for $499 for the monitor arm model and $674 with the keyboard tray added.
ICWUSA has been a trendsetting, rapidly growing US company since its start in 1992. ICWUSA manufactures ergonomically designed, space-saving mounting brackets and monitor arms in the United States for distribution world-wide. The company's mission is to provide the finest quality and most unique products, while ensuring customer satisfaction by providing superior customer service.
ICWUSA.com, Inc.
1487 Kingsley Drive
Medford, OR 97504
United States
800-558-4435
541-608-2824
###