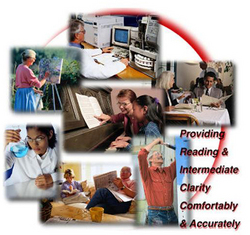 All glasses are made right the first time by licensed opticians
Littleton, CO (PRWEB) July 24, 2010
Glasses can be expensive, even more so when needed to accommodate vision for both printed text and a computer screen. Multi-View™ is offering a solution with new styles of computer reading glasses for men and women.
Multi-View™ glasses have power on the bottom of the lens for reading printed text and a different power on top that corrects vision when looking at a computer. A nice added feature is no visible lines. Valued at $275 to $350 traditional retail, computer reading glasses from Multi-View™ start at $89.95. Multi-View™ uses only Ophthalmic quality frames, most with spring hinges and CR-39 or Polycarbonate, Ophthalmic quality materials for lenses. Customers can also order features like sun tints with UV Protection for reading outdoors, computer tints and anti-reflective coatings to eliminate the bright glare from their computer monitor. Multi-View™ will fill custom prescriptions for reading glasses online as well. Prescriptions can be faxed or emailed. Now, consumers have even more options with new styles to choose from. They've just added very light weight but extremely durable Titanium frames to the product line.
Multi-View™ manufactures glasses for reading. Husband and wife team, John and Linda Catania, both licensed opticians, make the glasses per the online order out of their lab in Denver, Co. "All glasses are made right the first time by licensed opticians," explains Linda Catania, owner. "It makes a difference."
She further explains how a particular lens power may work well for reading, does not always perform for other conditions, such as a looking at a computer. The lens power has to be altered because it is a different focal point. An Eye Chart located on the website will help customers choose the correct power to order. Customers simply need to order the power they use for reading and Multi-View™ will adjust the power on top needed for their computer monitor.
"We are the originators of ready-made discount computer reading glasses, they started out designed for use while looking at a computer, but our customers said that they found comfort when using them for other things like cooking, playing the piano, painting, playing cards and many more hobbies." continues Catania. "Our high quality and affordable pricing helps many hard working Americans improve their visual comfort through their long day."
With new styles now available, consumers can wear these quality inexpensive computer reading glasses that feel and look great. Multi-View™ also offers stylish accessories such as cases, cords, gift boxes and gift bags. And for those that use contacts, fancy lens cases are also offered. Other merchandise available on the site includes sunglasses and reading lamps.
"We want to help people see more clearly. Our glasses have been shown to decrease headaches and tension associated with eye strain. And because you can see clearly, you'll be happier too," adds Catania.
More information on reading and prescription computer glasses can be found at Multiviewglassescom.
About Multi-View™:
John and Linda Catania launched Multi-View™ in February 2000 to meet the demand of strained eyes across the country and to help make workdays more visually comfortable. They saw a need to make correction for print and electronic viewing or hobbies in the same lens, more affordable. As licensed opticians for over 30 years, they help consumers buy prescription glasses online.
###