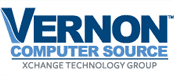 We are absolutely thrilled to be recognized as a distinguished supplier by Lenovo
(PRWEB) June 06, 2010
Stamford, CT, USA (PRWEB) June 6, 2010 -- Vernon Computer Source, an Xchange Technology Group company, announced today that it has received a prestigious Lenovo 2010 Distinguished Supplier Award in the General Procurement category.
Lenovo established these awards to recognize the contributions of its suppliers to the company's overall success. Among hundreds of suppliers in the in the mature markets category—which includes North America, the EMEA and some Asia-Pacific countries—Vernon Computer Source was one of only five to receive an award. The company was recognized for providing non-production related services—that is, services that are not used in the direct build of Lenovo products.
Vernon Computer Source specializes in desktop and laptop rental. The company also rents a wide range of equipment for business presentations and trade shows, including new 3D displays from Tridelity, no glasses needed!
Since July, 2008, Vernon Computer Source has provided Lenovo with the first consolidated 30-day loaner program in North America, covering some 32,000 assets, including net books, notebook computers, mobile workstations, LCD displays, servers, accessories and options, and storage products. An international company, Vernon Computer Source has the ability to implement its program globally and deliver cost savings, productivity and a single customer service experience for Lenovo customers.
Representatives from Vernon Computer Source received the award at Lenovo's 2010 Annual Supplier Conference. Held in Beijing on April 23, 2010, the event was attended by over 600 delegates representing 250 international suppliers. "We are absolutely thrilled to be recognized as a distinguished supplier by Lenovo", said Anthony Randazzo of Vernon Computer Source, "We have always valued our relationship with Lenovo and we look forward to building globally on the success we have experienced to date."
About Xchange Technology Group
Xchange Technology Group (formerly IT Xchange Group), established in 1996, is a worldwide leader in information technology and is made up of 4 affiliate companies- IT Xchange, Vernon Computer Source, BlueRange Technology, and PartStock Computer. Through this group of interdependent companies, we strive to become the world's premier provider of flexible and cost effective lifecycle management programs for IT assets. XCHANGE TECHNOLOGY GROUP
Vernon Computer Source focuses on the computer rental, lease, and lifecycle management of computer equipment and peripherals from tier one technology manufacturers. Operations are headquartered in Stamford, Connecticut with additional facilities in major regions across the United States. Our product portfolio includes IBM, Lenovo, HP, Dell, Sun Microsystems, NEC, Toshiba, Samsung, Infocus, and Apple.
For more information visit Vernon Computer Source.
BlueRange Technology delivers world-class technology solutions to solve business challenges in midmarket organizations. We have partnered with the world's leading hardware and software manufacturers, including: IBM, Lenovo, Microsoft, Cisco, and VMware. BlueRange Technology leverages our IS0 9001:2000 accreditation, coupled with a high standard of engineering and logistics, to help our clients maximize workflow and realize maximum ROI on their IT investment.
IT Xchange is an international distributor of personal computer and server technology, with offices in Canada, USA, UK, China, Japan and Australia. IT Xchange works with a broad network of domestic and international clients, providing customers with quality products that allow organizations to maintain their standard platforms for extended periods of time (Platform Maintenance) or to acquire technology appropriately matched to their applications (Appropriate Technology).
PartStock Computer is a leader in technology lifecycle investments for the educational customer base including K-12, college, and university. At the core of PartStock's foundation is the company's enduring commitment to customer service combined with a proven record delivering quality technology solutions. With a broad product inventory including Dell, HP, IBM and Lenovo, as well as industry leading certifications including Dell's Registered Partner and Microsoft's Authorized Education Reseller.
# # #