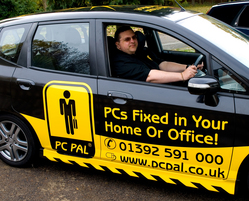 Having never run my own business a franchise seemed like the ideal solution although I wanted to choose one which had a strong brand as well as providing a professional, high quality service to customers. The PC PAL Franchise was the obvious choice
(PRWeb UK) November 8, 2010
Exeter man and former MoD employee Phil Skipper is set to be your computer's new best friend as he launches PC PAL, which provides mobile computer repairs to homes and small businesses.
Phil has changed his career to provide this essential emergency computer repair service to frustrated PC users in the Exeter and East Devon areas.
With more than 10 years' experience working in the IT arena in the private sector, local Government and for the Ministry of Defence, Phil is well-equipped to make the change.
"I have always had an analytical brain," Phil commented, "and being able to resolve a problem with a PC is something I enjoy, particularly when it means that someone can continue to use technology in their daily lives."
He also undertakes volunteer work which involves assisting local people with visual and hearing disabilities to undertake tasks not possible on their own. This can range from taking someone on an adventure course to helping someone gain the confidence to use their PC to keep in touch with friends and family.
As with other PC PAL Engineers, Phil has always been in constant demand to help out family and friends who have trouble with PC issues such as making their machine run faster, dealing with a virus or learning how to use a particular piece of software. Many of them have asked him why he doesn't set up his own PC repair business and so he decided to do just that!
"Having never run my own business before a franchise seemed like the ideal solution although I wanted to choose one which had a strong brand as well as providing a professional, high quality service to customers. The PC PAL Computer Franchise was the obvious choice," explained Phil.
Phil went through rigorous training before launching the business and is now a qualified Microsoft Certified Professional and also has the CompTIA A+ Certification for hardware.
'As I also carry a comprehensive range of spare parts and diagnostic tools it means I can fix most problems on the spot in the customer's home or office which reduces the inconvenience to them of having to remove the PC to another location,' added Phil.
PC PAL is fighting back against rogue operators who may be unqualified, uninsured or offer shoddy service. As our customers have testified, some unscrupulous firms are recommending work which does not need to be carried out, misdiagnosing faults or even installing illegal software.
Phil is looking forward to the challenge of building a successful business and providing an excellent and much-in-demand service in the local community.
For media enquiries and more information about PC PAL Computer Repairs in the Exeter and East Devon Areas, or a photo opportunity, please contact Phil Skipper on Tel: 01392 591 000 or email: exeter(at)pcpal(dot)co(dot)uk
# # #