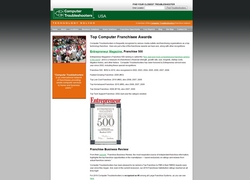 Computer Troubleshooters franchisees are more satisfied than many of the franchisee operators we survey each year.
Decatur, GA (PRWEB) February 25, 2011
Computer Troubleshooters franchisees are generally happy business owners, according to a recent survey conducted by Franchise Business Review, an independent market research firm based in Portsmouth, NH.
The survey asked franchisees questions related to training and support, system communication, franchisor/franchisee relations, financial opportunity, business lifestyle, and overall satisfaction with their business. Seventy-two percent (122) of Computer Troubleshooters 'franchisees participated in the Franchise Business Review satisfaction survey. The full results of Computer Troubleshooters' survey are available at http://www.FranchiseBusinessReview.com
"Computer Troubleshooters franchisees are more satisfied than many of the franchisee operators we survey each year," said Franchise Business Review president and CEO Eric Stites. "They seemed particularly satisfied with their relationship with the corporate office."
Founded in 1997, Computer Troubleshooters is a technology support franchise with 476 locations worldwide. The startup investment for a Computer Troubleshooters franchise ranges from $28,000 to $82,000.
Franchise Business Review recently recognized Computer Troubleshooters Franchisees' exceptional survey results with a 2011 Franchisee Satisfaction Award—an annual award given to franchise companies with the highest satisfaction rankings.
Over the last five years, Franchise Business Review has surveyed more than 100,000 franchisees from more than 500 of today's leading franchise brands. All active franchise owners who have been in business for three months or longer are invited to participate in this survey process.
"Our standard franchisee satisfaction survey includes 33 benchmark questions," Stites said. "Franchise companies use our survey data to help better understand the experiences of their franchisees, and pin-point areas within their systems where improvements can be made to help increase satisfaction and engagement – which leads directly to overall increases in franchisee performance."
About Computer Troubleshooters Franchisees
Computer Troubleshooters provides a full range of computer and technology solutions to small-business owners and private home users. Services range from onsite and remote support services on demand to monthly monitoring and service plans, virus and spyware remediation and protection, VoIP Telephony, Cloud Computing, Web development and many more technology services. Computer Troubleshooters also offers the world's only "No-Downtime-Guarantee" for customers on their BEST service plan. Computer Troubleshooters specialists are fully trained and experts at pinpointing a broad range of computer and technology challenges. Launched in 1997, Computer Troubleshooters now has more than 475 franchises worldwide in more than 26 countries. Ranked by Entrepreneur Magazine, Franchise Business Review, and AllBusiness.com as a top technology franchise. For more information, contact Computer Troubleshooters by telephone at 1.877.704.1702 or visit http://www.technology-solved.com.
About Franchise Business Review
Franchise Business Review is a national franchise market research firm that performs independent surveys of franchisee satisfaction and franchise buyer experiences. The firm's services include commissioned franchise research projects, as well as industry-wide studies of franchisee satisfaction. The firm administers the FBR50 – Franchisee Satisfaction Awards™—an annual rating of the top franchise companies based on the highest level of overall franchiseesatisfaction by participating companies. Franchise Business Review is headquartered in Portsmouth, NH, and can be reached at (866)397-6680 or by visiting their company websites at http://www.FranchiseBusinessReview.com
###