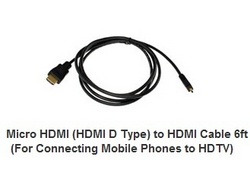 Rowland Heights, CA (Vocus) September 5, 2010 –
This month, leading computer cable manufacturer PI Manufacturing, Corp. launches the HDMID-HDMI-6, a micro HDMI computer cable that allows new phones with HDMI connection to connect to televisions, a feature mobile phone enthusiasts will definitely appreciate. Smartphones, such as new Android and Sprint EVO, that have a Micro HDMI (Type D) input can now be connected to HDTVs with PIMFG's HDMI (HDMI D Type) to HDMI Cable. With the new HDMID-HDMI-6 computer cables, videos and photos from smartphones can now be easily shared and viewed with friends and family for a low price of $7.50.
PI Manufacturing Corp., a manufacturer, importer, and distributor of computer cables, provides the full quality line of computer cables, networking cables, and home theater products. Computer cables for Apple computers and iPods are also available, as well as internal power cables, CD-ROM audio cables, serial cables, and parallel cables. Also for purchase are gender changers, USB computer cables, and VGA cables. Though specializing in computer parts and accessories such as computer cables, PIMFG also proudly offers home theater and security related products. Purchase professional grade security equipment for homes and office environments, including alarm accessories, barcode scanners, magnetic lock systems, security cameras, and security monitors.
PI Manufacturing, Corp. strives to provide customers of the best in computer parts and accessories. The leading computer cable manufacturer offers fast same day shipping for all in stock computer cables and other products. Custom built products such as fiber optics and networking cables are also available and are manufactured in-house with quick turn-around times. Clients need not worry as PIMFG only offers the most competitive prices for a better shopping experience. Visit the company's official blog or simply subscribe to the official mailing list for more details on PI Manufacturing, Corp.'s products and services.
About PI Manufacturing Corp.
PI Manufacturing Corp. has been serving customers for over 24 years. Specializing as a manufacturer, importer and distributor, PI offers customers a full line of high quality products. It carries computer cables, networking cables, audio/video cables, adapters, home theater products (HDMI, LCD Plasma Wall Mounts, Ceiling/In-Wall Speakers), security products and thousands of other items at wholesale prices. The company has earned the reputation as one of the fastest growing companies in the US. Press release produced by Cybertegic.com – an Internet marketing services agency that specializes in search engine optimized press release marketing (SEO Marketing).