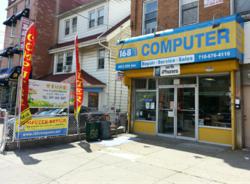 Brooklyn, NY (PRWEB) June 17, 2013
A leading computer repair services company, 168 Computer LLC, located in Brooklyn, NY announced today that it offers its local Bensonhurst residents and small businesses repair on all computer technologies, including PC desktops, laptops, MACs, printers, and most recently added, iPhones and iPads.
168 Computer Repair offers full-range of repair services onsite. In addition to general repairs for desktops and laptops, the repair services include:

Repair of broken or cracked laptop screens
Hardware failure repairs
Computer tune-ups, optimization, and cleaning
Virus, spyware, or any malicious software removal
Security and privacy enhancements
Performance improvements
Data recovery and networking
168 Computer Repair also sells refurbished PCs and laptops at great prices, and accepts old computers for recycling in-store. Online customers can purchase peripheral hardware equipment such as adapters, computer cables, and phone accessories on its online portal, http://www.168pc.net.
The company provides services that are fast, reliable, and affordable. Its certified computer technicians are experienced, friendly, knowledgeable, and can troubleshoot any issues you may have. 168 Computer Repair provide free estimates, and does not charge tax on any of its services.
168 Computer Repair can be found online at http://www.168computer.net or at its store location, at 8612 25th Ave, in the Bensonhurst neighborhood of Brooklyn. Store hours are Monday through Friday, 10AM-8PM, Saturday and Sunday, 12PM-6PM. The store is conveniently located within steps of major public transportation. No reservations needed, walk-ins welcome! Same day pick-up service is available for certain repairs.
For inquiries or more info, call 718-676-4116 or visit http://www.168computer.net.
About 168 Computer Repair:
168 Computer Repair is a locally owned and operated computer and technology repair business specializing in a wide range of services for desktop and laptop users, residential customers and small businesses. The computer repair company provides the full spectrum of in-store and on-site repair services, IT support, accessories for computers, cell phones, and consumer electronics. Our range of devices we service are limitless ranging from PCs, Macs, desktop computers and laptops, latest technology smart phones, iPhones, and iPads. No job is too big or too small. The company aims to provide its customers with fast, reliable and professional service. 168 Computer Repair encourages customers to inquire on how 168 Computer Repair can serve their computer or information technology needs.
For media inquiries, contact:
Latesha Richards
168 Computer LLC
(718) 676-4116