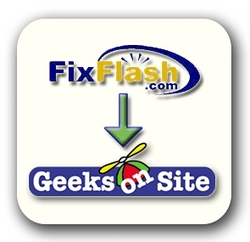 The merger between Geeks On Site and Fixflash has been a long time coming, but was definitely worth the wait. Change in general makes most people a bit uncomfortable, however our Fixflash customers were fine because I think they saw it for what it was- a sign the company is improving itself, as always
Miami, FL (PRWEB) October 10, 2009
Geeks On Site acquired Fixflash almost two years ago, but the merger of the two companies took some time to complete. Easing Fixflash customers through the transition was the most time consuming part. Customers were reassured they would receive the same great level of service with Geeks on Site as they had gotten with Fixflash, and that essentially only the name would be different.
"The merger between Geeks On Site and Fixflash has been a long time coming, but was definitely worth the wait. Change in general makes most people a bit uncomfortable, however our Fixflash customers were fine because I think they saw it for what it was- a sign the company is improving itself, as always," says George Otte, Geeks on Site President.
The final project was to develop and launch a website for Geeks on Site. The website lists all the essentials: services offered, contact information, and company history. Finally, Geeks On SIte customers and website guests can get important information regarding anti virus software, computer tips, and more.
Contact:
Erica Kirschbaum
Public Relations Director
169 Flagler Street, Suite 1012
Miami, FL 33131
Phone: 305.433.3085
http://www.geeksonsiteusa.com
###