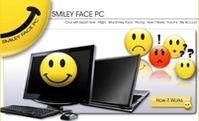 We believe this service is going to be a real benefit for the residential computer user - it is something I would recommend to everyone I know without reservation, even my grandmother. It is really a no-brainer for anyone who uses a computer
Atlanta, Georgia (PRWEB) April 10, 2009
Gosuto, LLC has announced the release of its new service, SmileyFacePC.com, now live and available to the public for only $19.99/month. SmileyFacePC.com allows home and home office users to get computer repair and support, 24 hours a day, 7 days a week, without leaving their chair or having a stranger visit their house. Service is provided over the Internet, so the only thing required is a working broadband connection.
'The reason we started this service,' says Ben Buie, President and CTO for Gosuto, LLC, 'is because the other options out there have major flaws that deter the average user, thus we couldn't recommend those services to our clients. Either they were too expensive, had too much variable cost, used technicians whose English we couldn't understand or that weren't qualified, had too many complex pricing options, or required a commitment from us up front before having actually talked to a technician. These were all deal breakers for us, and we figured other people had the same complaints, so we started our own service to solve these problems.'
Smiley Face PC was specifically designed to avoid those issues.
Users can talk to a technician in minutes, without creating an account or buying anything, and get a free consultation. Payment is not required until the technician has explained everything and is ready to fix the issue at hand, so there are no surprises.
The pricing is simple and straightforward, only $19.99/month. No contract is required.
The technicians, called "Experts", are all based in the United States and have met certification/education requirements. They also have several years of experience (most of the Experts have 10 years or more of experience).
Finally, the service is extremely easy to use and is as secure as online banking.
"We believe this service is going to be a real benefit for the residential computer user - it is something I would recommend to everyone I know without reservation, even my grandmother. It is really a no-brainer for anyone who uses a computer", said Ben.
For additional information, contact Ben Buie or visit Smileyfacepc.com.
Smiley Face PC - We Make Your Computer Happy.
About Gosuto, LLC:
Gosuto, LLC is a leading provider of IT Support and Consulting services for both business and residential clients.
Contact:
Ben Buie, President and CTO
Gosuto, LLC
800-574-9299 x101
Gosutollc.com
###