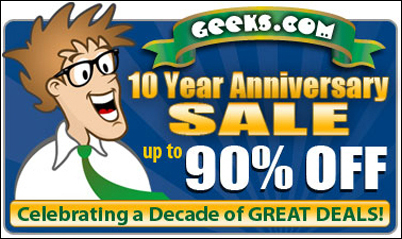 Oceanside, CA (PRWEB) July 19, 2006
Established in 1996, Computer Geeks is celebrating its 10-Year Anniversary July 18-23 with blow out prices, daily MP3 giveaways, and a grand prize drawing for an Apple iPod/HP 40GB Digital Music Player. To enter to win, click on the 10-Year Anniversary Giveaway banner found on any product detail page at Geeks.com.
Geeks.com sets itself apart from the competition by offering free technical support for items purchased as well as boasting a world class, easy to navigate e-commerce website complete with an on-site search function.
A privately-owned company with roots in San Diego County, Geeks.com was started by a group of entrepreneurs who saw a growing desire for inexpensive computers and computer parts in the retail consumer market. Like some other well-known start-ups, Computer Geeks started shipping from a garage converted into a warehouse but quickly moved into a more professional space as the business grew. With over 200 employees efficiently working under one roof, Computer Geeks does everything from Purchasing to Order Fulfillment in-house. Inventory is stored and customer orders filled, packed, and shipped from a modern, 2.2 million cubic foot warehouse. Nestled in the community of Oceanside, California, the Computer Geeks teams function together like a well-oiled machine. Buyers busily scour the world for great deals to bring home to happy clients as Sales and Marketing prep for daily specials and keep the website up to date with the latest and greatest offers. Where online and offline sales efforts converge, Sales keeps their fingers on the pulse of the internet to bring the best deals and knowledge possible to the Geeks.com loyal customer base.
Computer Geeks proudly divulges that 2005 sales saw an increase of almost 25% over 2004 and currently ships hundreds of thousands of orders annually. Taking pride in a top notch customer service team, Computer Geeks achieves high scores on BizRate, Price Grabber, Reseller Ratings, Alexa and made Internet Retailer's top 200 list two years running. Striving for same-day turn-around time, Geeks.com is pleased to announce that the majority of customer orders placed through the online store ship within 24 hours. Ordering from Computer Geeks is easy and if you don't want to wait for your order to ship, you can always visit the showroom in Oceanside, Ca. to pick up your order within the hour.
A popular website for IT professionals and hobbyists alike, Geeks.com has offered a decade of great deals on computer technology products and specializes in older computer parts and overstocked items as well as offering competitive pricing on some of the hottest electronic gadgets on the market today. After surviving the dot com crash, Computer Geeks has attracted a huge following of loyal, "geeky" clients and offers daily specials and deep discounts to keep them coming back, sometimes multiple times a day. Proud of its client base, Geeks.com is always on the look-out for special deals and cool product to pass on to them.
About Computer Geeks
Geeks.com, headquartered in Oceanside, CA, is a leading direct-to-consumer eCommerce site specializing in providing computer-related excess inventory, manufacturer-closeouts, high-demand and unusual computer components and peripherals at highly-discounted prices to tech-savvy, "Geeky" consumers.
###