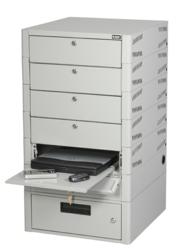 "The TekStak™ storage system is absolutely perfect," said Rainier Bisnath of ECCA School & Office Supplies Ltd.
Emigsville, PA (PRWEB) April 21, 2011
The El Dorado West Secondary School is the largest educational institution in the St. George East District of Trinidad and Tobago, an island state in the Caribbean. Recently, their government mandated that each student be assigned a laptop in an effort to enhance their learning experience. While this mandate is a much welcomed advancement in their curriculum, it posed the problem of how to safely store this valuable equipment.
The school needed a storage system that allowed laptops be individually stored and students to only be able to access the laptop assigned to them. Datum's TekStak™ locking storage cabinets not only met these requirements, but also provided several key features in addition to the school's requirements.
The unit features multiple locking options to choose from such as a key, hasp or electronic lock. Each storage cabinet is ventilated to provide airflow to the electronics, maximizing their lifespan. Locking drawers, pull-out shelves and laminate counter tops can be easily combined to create a custom workspace with color options to fit any decor. Also, the school was able to choose between a charging and non-charging unit that could power their electronics while they are being safely stored.
"The TekStak™ storage system is absolutely perfect. We were impressed with the number of units that could be individually stored in each cabinet and the minimal amount of floor space it required." said Rainier Bisnath of ECCA School & Office Supplies Ltd., an authorized Datum dealer. "The ventilation design on these cabinets was particularly attractive, given our humid Caribbean climate."
Datum easily worked with the school's budget and international location to provide the cabinets on time and within budget. The well-engineered design and sturdy gauge of steel used in this unit's construction ensures the laptops will be protected for many years of use.
For more information about Datum's TekStak™ storage cabinet and their many other products that specialize in secure storage please visit: http://www.datumfiling.com.
# # #