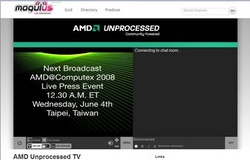 Never been to Computex? Can't make it to Taipei? No problem…
SUNNYVALE, Calif. (PRWEB) May 28, 2008
What's available:
AMD FACEBOOK PAGE
Join the AMD Facebook page to stay tuned into all AMD-related activities, details and updates from Computex, and links to content listed below.
Available: immediately
TWITTER FEED
Follow the AMD@Computex 2008 Twitter feed
Available: immediately
LIVE BROADCAST OF THE AMD PRESS CONFERENCE
AMD Press Conference Broadcast
Featuring Dirk Meyer, president and chief operating officer, AMD
Remarks from Chris Cloran, vice president, Notebook Division, AMD, as well as AMD customer representatives
Live demonstrations of new technology
Available: 12:30 p.m. local Taipei time; 12:30 a.m. ET, June 4, 2008
ARCHIVED VIDEO-ON-DEMAND PLAYBACK
An archived recording will be made available following the event for those unable to view the live broadcast.
Available: as soon as possible following the end of the press conference
EMBED MOGULUS LIVE BROADCAST FEED INTO YOUR WEBPAGE
Once on the AMD Unprocessed TV channel, click on "embed".
DAILY BLOG POSTS
By Pat Moorhead, vice president of Advanced Marketing, AMD. Check out Pat's blog post about his upcoming Computex trip and let him know what you'd like to see covered.
Available: immediately and updated daily from Computex
VIDEOS
Short videos posted to the AMD FlixWagon page. AMD plans to feature vignettes of new AMD and AMD partner-related technologies from the Computex show floor, comments from company representatives, and the sights and sounds from Computex 2008 in Taipei, Taiwan.
Available: starting June 3 or earlier
PHOTOS
AMD plans to post photos of Computex products, people, and other eye-catching sights posted to the AMD FlickR page.
Available: Starting June 3-7
LINKS
Links to the AMD Press Room, AMD product pages, stories and other blog posts related to AMD@Computex 2008 news.
Available: updated throughout Computex 2008
"Never been to Computex? Can't make it to Taipei? No problem…"
About AMD
Advanced Micro Devices (NYSE: AMD) is a leading global provider of innovative processing solutions in the computing, graphics and consumer electronics markets. AMD is dedicated to driving open innovation, choice and industry growth by delivering superior customer-centric solutions that empower consumers and businesses worldwide. For more information, visit http://www.amd.com.
AMD, the AMD Arrow logo, and combinations thereof, are trademarks of Advanced Micro Devices, Inc. Other names are for informational purposes only and may be trademarks of their respective owners.
MULTIMEDIA GALLERY http://www.businesswire.com/cgi-bin/mmg.cgi?eid=5696339