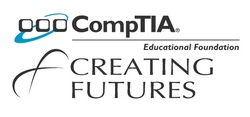 The updated exam will be more reflective of current networking technologies.
Oakbrook Terrace, Ill. (Vocus) September 15, 2008
The Computing Technology Industry Association (CompTIA), the leading provider of vendor-neutral certifications for the world's technology workforce, announced today it is updating its CompTIA Network+ certification.
The 2009 edition of the CompTIA Network+ certification exam is scheduled for worldwide availability during the first quarter of 2009. The certification was last updated in 2005.
"Expansion and growth of wireless networks in the corporate environment has generated administrative and security challenges on the network," said Michael Robie, vice president, skills development, CompTIA. "The updated exam will be more reflective of current networking technologies."
A 2008 CompTIA survey of more than 3,500 IT managers around the world found that two-thirds (66 percent) said that general networking and network infrastructure skills are currently in high demand in their organizations.
"CompTIA Network+ certified professionals have the knowledge and skills necessary to manage and maintain basic network infrastructure," Robie said. "This certification is a logical next step for any IT professional looking to add to their arsenal of career-enhancing skills."
CompTIA Network+ certification validates knowledge and ability to select, connect, configure, and troubleshoot basic network infrastructure. Organizations across a wide range of industries, and from small businesses to large enterprises, use CompTIA Network+ as a skills benchmark for staff members responsible for network operations.
The update of CompTIA Network+ is in keeping with CompTIA's practice of continuous and ongoing review of its certification content to assure that it addresses the latest changes in technology and reflects the skills needed by tech workers and required by employers.
CompTIA Network+ certified professionals work in a variety of IT roles, including network administrators, network technicians, network installers, help desk technicians, and IT cable installers. Though not required, candidates for the certification are recommended to have nine to twelve months experience in networking and CompTIA A+ or an equivalent certification.
CompTIA is working with publishers and training providers to ensure there are training materials available for the launch of the update CompTIA Network+ exam.
The current version of the CompTIA Network+ exam remains available worldwide. Candidates now studying for, or considering CompTIA Network+, are strongly encouraged to continue their preparation and test for the certification based on its current objectives. The new objectives for CompTIA Network+ are available at http://certification.comptia.org/resources/objectives.aspx.
About CompTIA
The Computing Technology Industry Association (CompTIA) is the voice of the world's information technology (IT) industry. Its members are the companies at the forefront of innovation; and the professionals responsible for maximizing the benefits organizations receive from their investments in technology. CompTIA is dedicated to advancing industry growth through its educational programs, market research, networking events, professional certifications, and public policy advocacy. For more information, please visit http://www.comptia.org.
###