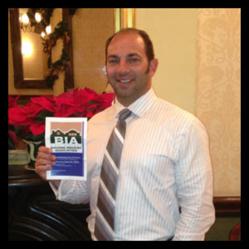 John has been an invaluable asset to our team inside and outside of the
office. He is a terrific example of Comstock's values, which include
exemplary service to our customers and community said Tom Putnam, Production Manager, Comstock Mortgage
Sacramento, CA (PRWEB) January 11, 2013
In recognition of his valuable contributions and outstanding support and service to the local community, John Foderaro of Comstock Mortgage has been appointed to the Sales and Marketing Council Board of Directors (SMC board) of the North State Building Industry Association (North State BIA).
Founded in 1944, the BIA is a professional trade organization, whose goal is to secure a more favorable economic environment for homebuilding.
North State BIA officers, members and board members are committed to leading the industry and ensuring its integrity.
"I'm excited to be a part of the North State BIA's SMC Board to learn and deepen my roots within the new housing community" said John Foderaro of Comstock.
As a member of the North State BIA SMC Board, John will an integral part of the membership growth, event planning and budgeting of the SMC activities.
John has been a top performer with Comstock Mortgage since 2005 and appreciates their hybrid mortgage bank approach, their in-house operations support (to get the job done right and timely) and their strong involvement with the local community. He enjoys the rewards of helping people attain the dream of home ownership and structuring financing to meet their needs whether for a home purchase or refinance.
"John has been an invaluable asset to our team inside and outside of the office. He is a terrific example of Comstock's values, which include exemplary service to our customers and community. John's presence on the BIA board will enhance our ability to have a local positive influence and provide knowledgeable service to our customers. We appreciate John's hard work and are proud to have him on our team" said Tom Putnam, Production Manager for Comstock Mortgage.
The North State BIA's next main Calendar Event that John will be a part of the planning of is the the Crab Feed "Night of Fun" which will be held Friday, February 1, 2013 at the Citrus Heights Community Center.
More information can be found on their website and Facebook page.
Comstock Mortgage is a licensed CA DRE and DOC licensed Banker and Mortgage Broker. California DRE #01390474 DOC #6073484 NMLS #165193
John Foderaro is a licensed Mortgage Broker. California DRE #01370467 NMLS #305090
Source: SuperGlobe